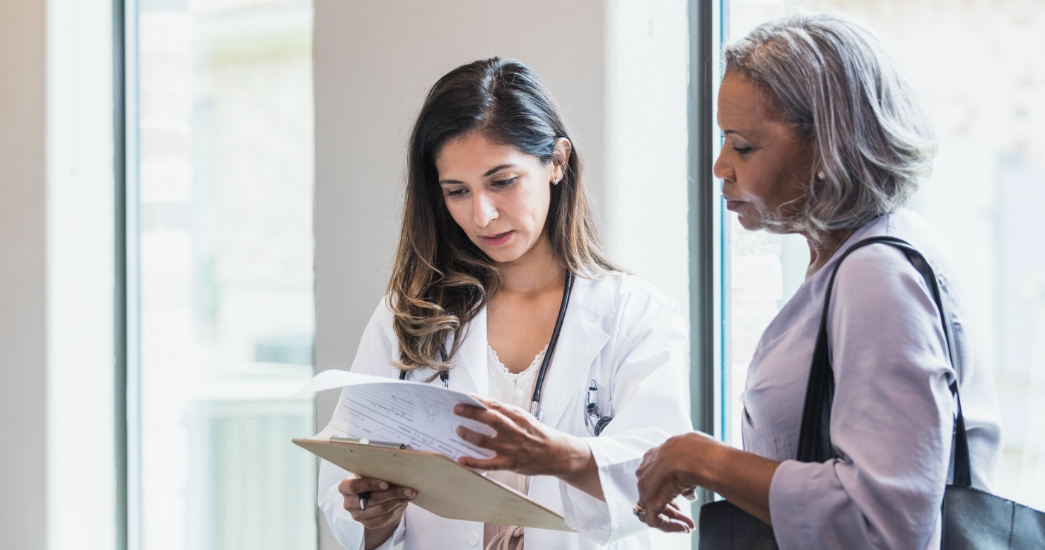 The pandemic caused many people to put preventative care on hold, including screenings for cancer. These routine tests are critical in early detection, so it's important to know when and what to screen for and get those appointments on the books. Regularly monitoring your own body through self-exams is a great first step. But self-exams aren't intended to take the place of professional medical screenings and consultation with your doctor.
Together with your doctor you can identify if you have certain risk factors that may increase your chances of developing cancer. Existing health conditions, family history, environmental factors and lifestyle choices may require you to get cancer screenings earlier or more frequently than average. Otherwise, most screenings are determined by age.
When should you start getting cancer screenings?
Cancer can develop slowly over time and some types may not show symptoms until later stages. Preventative cancer screenings, which are covered under most health insurance plans, are used to find cancer in people who have no symptoms, offering the best chance of finding it early, before it has spread. Here are the American Cancer Society recommended cancer screenings by age, for people without higher-than-average risks:
In your 20s and 30s
Starting at age 25, women should begin cervical cancer screening by receiving a primary HPV, or human papillomavirus, test every five years. HPV is a common sexually transmitted virus that can lead to cervical cancer later in life. Alternatively, women can receive a Pap, or Papanicolaou, test every three years. A Pap test allows doctors to analyze cervical cells for abnormalities.
In your 40s
At age 45, it's recommended women begin annual mammograms to test for breast cancer. Colon cancer screenings should also begin at age 45 for both men and women. Early signs of colon cancer can be detected through stool-based tests or by examining the structure of the colon through a colonoscopy.
In your 50s and 60s
Men who are 50 and older should talk to their doctor about beginning prostate cancer screenings. If testing is recommended, it commonly includes a prostate-specific antigen (PSA) blood test. However, PSA counts are sensitive to other factors, so results may be somewhat unreliable. A doctor can determine if more testing, like prostate imaging or a biopsy is needed.

How to reduce your risk of developing cancer
Cancer screenings can help you detect cancers in early stages, but there are also ways you can work toward lowering your risk of cancer overall. Cancer prevention research is always evolving, and there's no guarantee preventative measures will work, but most doctors agree that making healthy choices could make a difference.
Certain viruses have been linked to future cancers. Hepatitis B can increase the risk of liver cancer and the HPV virus can contribute to cervical and other genital cancers. Thankfully there are vaccines that protect against both of these viral infections and lower your cancer risk. Additionally, avoiding any type of tobacco and drinking alcohol only in moderation can reduce your risk of several cancers, including lung, mouth, throat, pancreas and bladder cancers. And minimizing your time in the sun and avoiding tanning beds will help lower your risk of all skin cancers, which are some of the most common and preventable types of cancer. In addition to checking your own skin monthly, you should see a dermatologist for an annual, full-body skin exam.
Other choices, like maintaining a healthy weight through exercise and diet may not only reduce your cancer risk, but also help you avoid other illnesses as well. Stock up on fresh fruits and vegetables, lean meats and whole grains and do what you can to be physically active every day.
Get the support you need to stay well
To decrease your risk of cancer, it's important to incorporate healthy habits into your life. But sometimes you need support and motivation to make that happen. Harvard Pilgrim Health Care offers the Living Well at Home program, which provides virtual health and wellness classes for members and non-members alike. Additionally, Harvard Pilgrim members get reimbursed for things like gym memberships and fitness classes through the fitness reimbursement program. And if members just need someone on their side to help with motivation and goal setting, they can connect with no-cost, certified health coaches who can offer support on everything from blood pressure control to smoking cessation.
Harvard Pilgrim also offers an oncology care management program for members who have been diagnosed with cancer or are in remission. From education to treatment options to provider selection, this program gives members the support they need during what may be a stressful and overwhelming time.
Cancer – of any type – is a serious disease. But staying up to date on your cancer screenings, making healthy life choices and getting the support you need are your best defenses.
Keep a pulse on the health trends that matter today.
Stay on top of health topics, technology and policies in today's changing world. Check the monthly newsletters you'd like to receive and start getting health news right in your inbox.