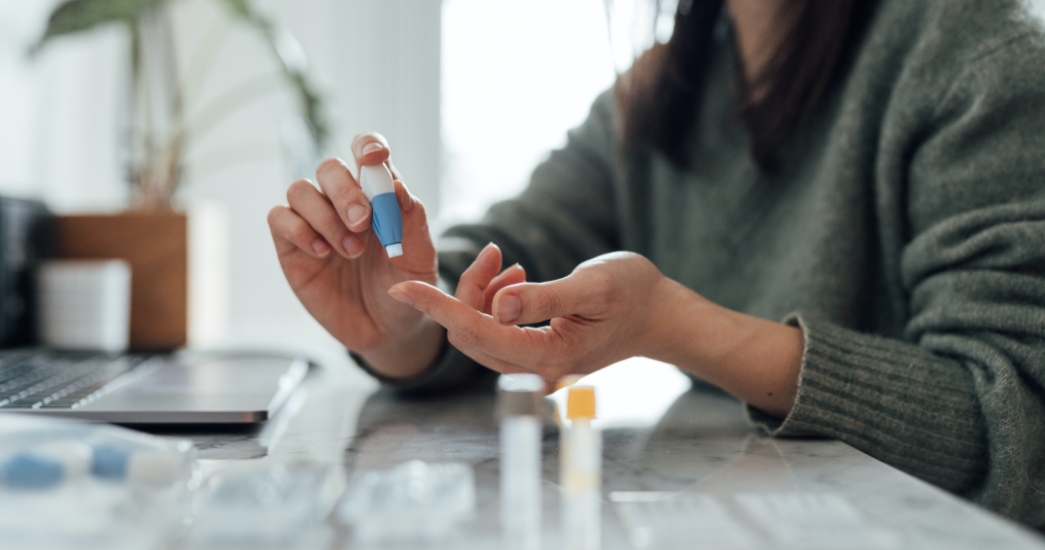 In the United States, about 34.2 million people are living with diabetes, a chronic disease that is increasingly becoming more prevalent, especially among children and teens. About 1.6 million people have type 1 diabetes, an autoimmune disease where the pancreas makes very little to no insulin. For individuals living with type 2 diabetes, the body doesn't respond to insulin normally, causing the pancreas to make more insulin to try to get cells to respond.
Throughout the pandemic, public health officials have said that anyone living with a serious medical condition, which includes type 1 and type 2 diabetes, is more likely to have severe symptoms and serious complications from COVID-19. But why is this, and how does COVID-19 affect individuals who have diabetes?
Here we'll explore how COVID-19 may impact individuals who are living with diabetes, best practices for preventing the spread of COVID-19 and tips for managing your diabetes to maintain optimal health during the pandemic.
How does COVID-19 impact people with diabetes?
There isn't sufficient enough data that shows whether or not people with diabetes are more prone to COVID-19, or that COVID-19 can lead to diabetes. However, health officials are learning more about COVID-19 and why people with diabetes may experience more severe symptoms and complications.
For individuals living with diabetes, the immune system does not function as effectively, which can make it difficult for the body to fight off illnesses and viruses. And because people living with diabetes typically live in an inflammatory state, their body is more prone to having an inflammatory response to COVID-19, leaving them more susceptible to severe infection, particularly if their diabetes is not well managed or if they are not living an active and healthy lifestyle.
How can individuals with diabetes prevent severe infection from COVID-19?
Now that COVID-19 vaccines are widely available, it's important to get vaccinated if you aren't already. All three vaccines – Pfizer-BioNTech, Moderna and Johnson & Johnson – are proven safe and effective at preventing severe illness. In addition to getting vaccinated, it's important to keep following the Centers for Disease Control and Prevention's (CDC) COVID-19 guidance while also staying up-to-date on vaccine information and guidance regarding boosters.
What are some best practices for managing diabetes through COVID-19 and beyond?
As health and medical experts are still exploring the link between COVID-19 and diabetes, it's increasingly important for individuals with diabetes to maintain their health by keeping an eye on blood sugar levels and making healthy choices. A few examples include:

Mapping out a healthy eating plan. Eating a healthy, well-balanced diet not only helps to maintain glucose levels, but it can prevent further health complications associated with diabetes. Ensure that every meal has a solid mix of starches, fruits and vegetables, proteins, and fats. Counting carbohydrates may make managing blood sugar easier. People with diabetes should aim to get about half of their calories from carbs. Talk to your doctor or dietitian about the best food options and the appropriate balance.

Exercising regularly. Physical activity can help lower glucose levels while also allowing your body to use insulin more efficiently. Set a goal of 150 minutes of moderate-intensity activity per week, which works out to be 20-25 minutes daily. In addition to 150 minutes of moderate-intensity exercise, it's important to incorporate varying levels of physical activity into your daily routine as much as possible. Going for a morning walk or jog, or even doing daily housework is a good way to stay healthy and active.

Exploring various support options. If you're looking for additional support and digital options to help with your diabetes management, both Harvard Pilgrim Health Care and Tufts Health Plan provide members with access to a variety of resources.
Through Harvard Pilgrim's care management program, eligible Harvard Pilgrim members may be invited to access Virta Health, an innovative type 2 diabetes reversal solution that combines cutting-edge technology, nutrition science and continuous remote care from physicians and behavioral experts to help patients reduce or eliminate insulin use.
Tufts Health Plan members can receive support from a disease manager for additional health guidance. Similarly, Harvard Pilgrim members living with diabetes can work with a nurse care manager to manage their condition on a regular basis.
The Living Well Everyday program is another resource, available to both members and non-members, that helps encourage taking steps to improve overall health and well-being, while also offering some opportunities for rewards along the way. You can take part in weekly fitness classes and learn various healthy eating tips through different Living Well webinars. Harvard Pilgrim and Tufts Health Plan members also have access to health coaches for advice and guidance to help you achieve your health goals.
Harvard Pilgrim Health Care: Providing Existing & Future Members Resources to Stay Healthy
During the ongoing pandemic, as health continues to be one of the nation's top concerns, people with diabetes are encouraged to take the proper steps and precautions to stay healthy and reduce contracting or spreading COVID-19. Remember, getting vaccinated is the best way to protect yourself and others. For the latest on COVID-19, visit our resource guide.
Keep a pulse on the health trends that matter today.