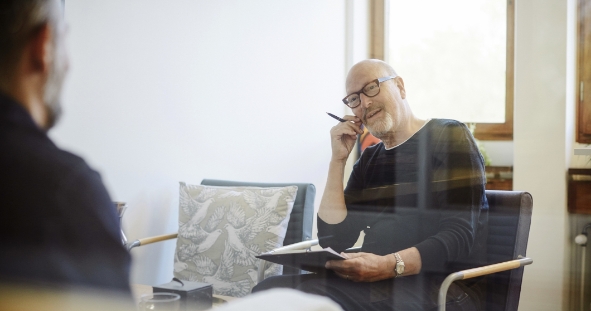 Estimated Read Time: 3:00
Executive Summary: Gain an understanding of mental health literacy and how to create strong mental health literacy across every level of your organization, including:
How to build awareness and understanding at the individual level.
How to create a shared cultural consciousness across your teams.
How leadership can contribute to and actively support an inclusive, empathetic workplace culture.
---
What exactly is mental health literacy in the workplace? Essentially it refers to the collective understanding and proficiency an organization has when it comes to supporting employee well-being, recognizing mental health challenges and providing an inclusive culture where employees feel comfortable having open conversations about mental health.
More than ever, many organizations understand the importance of supporting employee mental health for a thriving workplace culture and for retaining top, diverse talent. But when it comes to mental health literacy, do you know where your organization stands as a whole? Here's what strong mental health literacy looks like at each level:

Individual awareness and understanding.
First, are your employees aware of all the mental health offerings included in your benefits package and how to use them? Mental Health America, a nonprofit organization dedicated to the needs of those living with mental illness, recently released findings from their 2022 Mind the Workplace Report. The report measures perceptions of over 11,000 employees, and the findings show that 38% would be comfortable using their company's services for a mental health concern.
From teletherapy to in-person support to digital tools, make sure all your employees understand the flexible ways they can access care. Additionally, mental health literacy among your employees means they feel empowered to improve and prioritize their well-being. They should have a solid understanding of self-care strategies and know where they can seek help if and when they need it.
Cultural consciousness and advocacy.
Creating a workplace culture of inclusivity begins with shared mental health literacy between team members. When it comes to emotional well-being, are your employees looking out for and advocating for each other? Do managers and team members understand mental health concepts and feel comfortable talking openly about things like self-care, stress and burnout? It's important for both employees and managers to have training around social/emotional skills and practicing empathy. They should also know how to recognize and respond to employees who may be facing mental health issues.

Top-down and organizational support.
Creating an inclusive culture in your workplace that promotes awareness and encouragement of mental health support starts at the top. Leadership and organizational operations have to have distinct policies, a clear vision and implement strategies that are understandable and achievable by all. This includes having leadership that openly supports and normalizes caring for well-being. In addition, it's important to have a clear employee-centric mental health strategy and communications recognizing employee mental health goals.
Companies like Rockland Trust have worked to create a culture of empathetic leadership, offering coaching to educate executives on how to shift their language around mental wellness, in order to better support employees who might be struggling. Goldman Sachs and PwC have also found ways to ensure employees take their PTO. This summer PwC shut down for employees for one week, and starting in 2023, Goldman Sachs employees will be required to take a minimum of three weeks off. "Making sure all time off is protected, uninterrupted and that no vacation days go unused is extremely important, so our leaders will be expected to support that happening," wrote PwC U.S. Chair Tim Ryan in a company announcement.
Creating strong mental health literacy and a culture of inclusivity is the job of your entire organization. Committing to organizational goals and taking proactive steps to improve mental health literacy in your workplace can show your employees that they're seen, heard and valued.
Keep a pulse on the health trends that matter today.
Stay on top of health topics, technology and policies in today's changing world. Check the monthly newsletters you'd like to receive and start getting health news right in your inbox.