Behavioral Health Care
Supporting your emotional and mental well-being.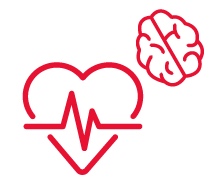 Behavioral health care is occasionally referred to as mental health care; however, the term behavioral health is more common now because it includes your behaviors and habits, as well as your mental and emotional wellness.*
Conditions such as depression, anxiety, panic disorders, stress management, addictions, eating disorders, relationship issues and others can affect how you think, feel and act. Your behavioral health determines how you handle stress, relate to others and make healthy choices. If you have a behavioral health need, you are not alone. In fact, one study showed that about 20% of American adults have experienced a mental health issue at some point in their life.**
We invite you to read further to learn more about common behavioral health needs, when to seek help, how to find behavioral health providers and what you may expect from treatment. You can learn more about behavioral health topics and resources, manage your claims, and access your explanation of benefits on Optum's Live and Work Well member website.
*Centers for Disease Control and Prevention. Mental Health.
**U.S. Department of Health and Human Services. Mental Health Myths and Facts.