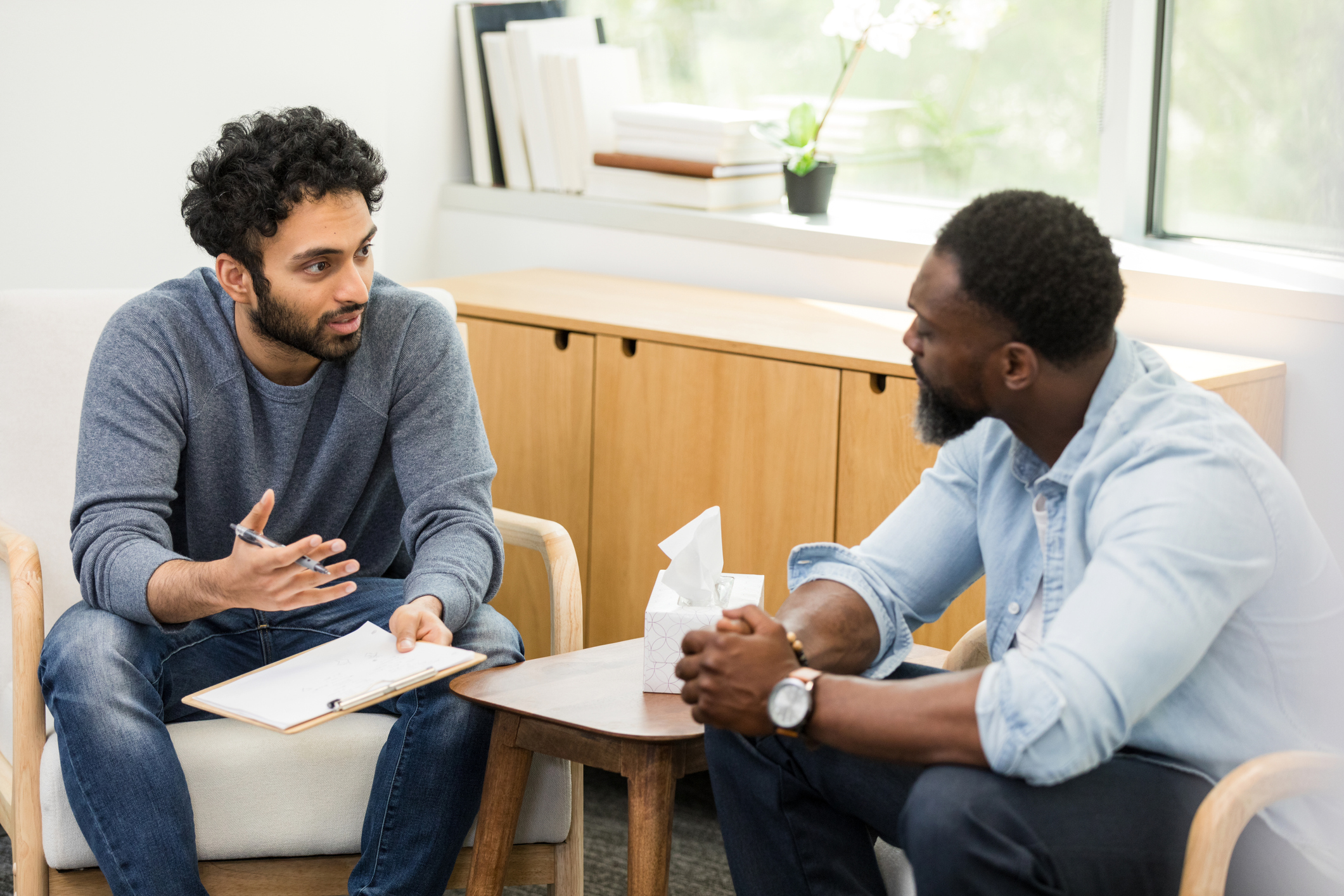 For those who've made the decision to seek professional support, finding a therapist isn't always easy. However, to create the best chance for therapy to make a positive impact, choosing a therapist you can connect and grow with is a critical first step.
With help from mental health professionals Dr. Charmain Jackman and Celeste Viciere, we explored a few key considerations to help guide you in your search and find the best fit.

Understand what's covered.
There are some important factors to keep in mind when it comes to looking for a mental health professional. First, you'll want to consider in-network providers versus out-of-network providers. While you can see a mental health professional who's outside of your insurance network, the cost to do so can be more expensive. Second, it's important to understand what type of health insurance you have to know how you'll be covered. Confirming directly with the provider you have in mind and your health insurer is a good way to verify what costs you'll be responsible for.
A good first step is to search for professionals within your insurance network. Most insurers have provider databases that make it easy for members to search for health specialists in their area. Harvard Pilgrim Health Care members can utilize the Find a Provider tool for a list of in-network mental health providers.

Do your research.
Once you have the names of a few therapists you're interested in, head to the internet. Many health professionals have profiles on sites like Psychology Today that list their credentials and areas of expertise. Another good resource is Therapy Matcher, which connects you with a social worker who helps to provide suggestions for a therapist who's a good fit for your needs.
These sites also usually provide an overview of the approach to therapy each professional takes, notes Viciere, a Boston-based licensed therapist. There are many different types of therapies and therapy techniques. Having a basic understanding of them can help you better realize which therapist may or may not be right for you. For example, cognitive behavioral therapy (CBT) focuses on helping people find new ways to behave by changing their inaccurate or negative thought patterns. Meanwhile, psychoanalytic therapy is a form of talk therapy that aims to uncover repressed experiences and emotions that may be negatively affecting a person's behaviors and ways of thinking. Knowing which technique a therapist uses can give insight into how their approach may or may not align with your needs and mental health goals.

Look into your employer's benefits package.
Be sure to check with your employer for any flexible tools and resources that may be included in your benefits package. Eligible Harvard Pilgrim members have access to AbleTo, a virtual program that connects members with support from licensed therapists. AbleTo also provides members with 24/7 access to self-care resources and tools. Additionally, your insurer may partner with health organizations that connect members with therapists who specialize in particular cultural or human experiences, such as LGBTQ+ care.

Schedule a consultation.
Licensed psychologist Jackman recommends narrowing your search down to two or three professionals and reaching out for a 15-minute consultation to ask questions and get a feel for their style. If you're interested in unpacking a particular issue, ask if they have experience in this area. And if you come from a cultural background that's shaped your experience, Jackman suggests asking if they've worked with people from your cultural background. "I would say therapy is like dating a little bit. It's the vibe that you get from this person. It's more about their experience and their experience in helping people who have similar issues that you're trying to work through," notes Jackman.

If it's not working, keep looking.
Viciere reminds us that therapy is not a one-size-fits-all situation. "Look at it as if you're looking for a pair of shoes… if it's not working, it's not a bad thing, it's just not working. It's not your shoe size, right? It's not your style, and that's okay." Since getting started takes time, Viciere recommends giving it three to four sessions before deciding this therapist isn't for you. If you're still not meshing by then, it's okay to discontinue sessions. Try not to get discouraged and keep looking.
It's important to try to find the best therapist for your needs even if it takes time. When you find someone you feel comfortable talking to, you're more likely to benefit from therapy. For more tips and guidance from Jackman and Viciere, listen to the Turning Points podcast.
Keep a pulse on the health trends that matter today.
Stay on top of health topics, technology and policies in today's changing world. Check the monthly newsletters you'd like to receive and start getting health news right in your inbox.