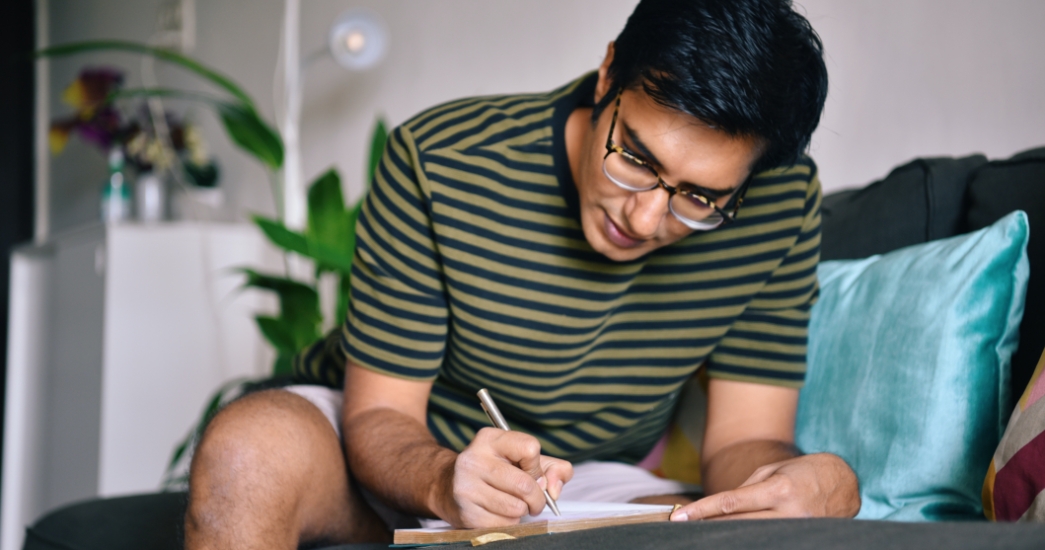 The ongoing COVID-19 pandemic continues to have a profound impact on mental health, with studies showing that more people are struggling with depression, anxiety and substance use disorder than before the pandemic. Now more than ever, managing our mental health is important to our well-being, but it is also a journey, one that is not always linear, and understanding how to analyze (and celebrate) your progress is critical.
Unlike physical health where there are often clear numbers to help track progress, monitoring emotional health can be more ambiguous. The inward and often solitary work that makes up managing your mental health makes it more challenging to keep perspective of where you started and how far you've come — bottom line, it's hard to know whether or not the actions you are taking are "working."
To help you on your mental health journey, here are some useful tips for goal setting and tracking progress.
Establish Your Mental Health Goals
Establishing goals in the beginning of your mental health journey can help you identify specific areas to focus on, instill motivation and allow you to see what's possible. Setting a goal is a great starting point to figure out what works best for you, and in turn, can be something that you want to continue with (or make into a habit) to improve your well-being well after your initial goal is completed. Remember, everyone's mental health journey is different and there's no one-size-fits-all approach.
Follow these steps to help determine what goals are right for you and how to stick to them:
Define your why.
When thinking about your goals, be sure to ask yourself "why" and understand the reasoning behind each response. Start by asking yourself a few questions — what's important to you, what is an area you'd like to improve, what would you like to do more of? Each person's "why" will be a little different. For example, it could be that focusing on improving self-esteem is the ultimate goal, or that reducing feelings of sadness and loneliness is what you hope to achieve.
Set SMART goals.
Setting goals that are "SMART" (specific, measurable, attainable, relevant and time-bound) can help you define your why and establish actionable goals that will help you achieve your desired outcome.
When setting mental health goals for yourself, try to make them meaningful and personal to what you want to achieve. Some examples include:
Prioritize one mental health goal at a time.
Because goals increase motivation, an easy way to take advantage of that renewed energy is to prioritize one goal at a time. This intense focus will make it more likely that the goal is achieved — or that strong progress is made — faster. Once you feel comfortable with your first goal, you can incorporate others into your routine.
Getting started on your mental health journey and establishing goals can be overwhelming. If you're feeling stuck, consider seeking professional support to help you along the way. If you're already working with a mental health professional, be sure to engage them in helping you outline clear goals or evaluate existing goals.
3 Ways to Ensure You're Making Progress
Measuring progress or effectiveness can be difficult, especially if you aren't in a professional health setting, like therapy. It's important to understand that there is no immediate fix. It's going to take time and determination to achieve your goals and find what works for you, but tracking your progress can provide you with a clearer picture of where you are in your journey and areas you have been successful or may need improvement.
Whether you're on a self-care path, seeking professional help for the first time or you're in the process of receiving therapy or treatment, here are a few ways to track and measure your mental health progress:
1. Keep a journal.
Regular tracking of how you are feeling and whether it was a good or bad day can help you understand where you're at in your mental health journey. Whether you feel like you made an achievement or faced a setback, recording your feelings and mood and how it ties back to your original desired outcome will help to measure progress. For example, if you're working through feelings of depression with a therapist, write down how you felt after each session. If you're working on being more present with family members, write down how you felt putting a goal into practice on a set day.
By making journaling a more regular habit, you can revisit previous entries, see your progress and areas where you had success and hold yourself accountable. You can also track progress using a digital tool such as Sanvello, a mobile app available to Harvard Pilgrim members that provides clinical techniques to help manage symptoms and supports daily tracking of emotions and progress.
2. Ask a family member, friend or mental health professional.
Friends and family can be a positive support system; if you're comfortable sharing your goals, your loved ones may be able to help you recognize changes and improvements in your mood and overall well-being along your journey. They can also help hold you accountable for steps that lead toward improving your mental health, such as working out to improve mood or practicing mindfulness to reduce stress. Additionally, if you are seeing a therapist or health care professional, they can help you evaluate your progress against your established goals, as well as hold you accountable in a way that's separate but complementary to support from friends and family.
3. Explore digital behavioral health tools.
If you're looking for self-support and digital options to help in your mental health journey, both Harvard Pilgrim and Tufts Health Plan offer telebehavioral health tools that allow access to mental health support as part of your coverage. For example, Talkspace gives Harvard Pilgrim members virtual access to licensed therapists in their state via private messaging or live video. Members can also receive behavioral health support through Doctor On Demand. Similarly, Tufts Health Plan members have access to Teladoc and can use Happify, a self-care mental wellness platform that provides cognitive behavioral therapy and gives users access to evidence-based activities that can help reduce symptoms of depression and anxiety.
Celebrate Success
Progress and success look different to everyone, which is why it's important to focus on what you want to accomplish and find ways to celebrate your mental health milestones. Remember, mental health is a journey. Be kind to yourself, keep your goals in sight and seek help if you need it.
Keep a pulse on the health trends that matter today.