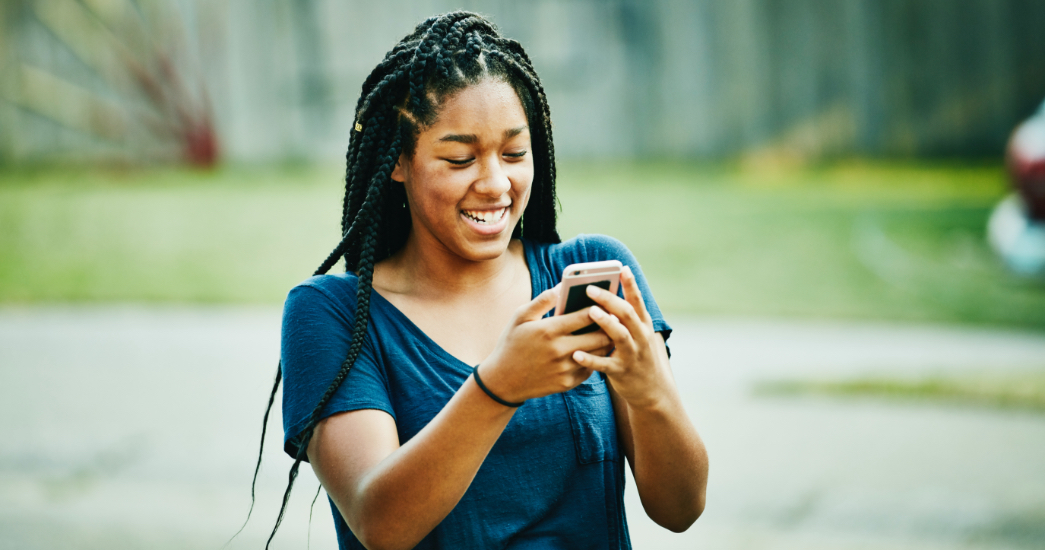 The pandemic has been difficult for everyone, but teens experienced this struggle during an especially vulnerable time in their lives. From being thrust into remote learning to a loss of key social events and interactions that normally shape their development, it's no wonder adolescents have experienced a significant increase in anxiety and depression.
However, something interesting has happened in the wake of chaos created by the pandemic. There's been a shift in how teens are using social media. While misuse of social media can still have a negative impact on teens, many have started to challenge some of the problematic issues, like comparison culture, overuse and online bullying. From live chats to blossoming podcasts, there is a movement among teens to harness the use of social platforms in a positive way for their mental health. Today's teens seem more willing than any other generation to talk about mental health issues and are empowering their peers to add their voices to the conversation via social platforms.
It's not the tools. It's how you use them.
This new positive influence social media is having on mental health issues isn't because of the social media platforms themselves, it's because of how teens are choosing to use them. Dr. Michael Rich, MD, MPH, founder and director of the Center on Media and Child Health (CMCH) at Boston Children's Hospital, where he's known as The Mediatrician®, says, "These are powerful and ubiquitous tools, but they're essentially neutral. We make them positive or negative by what we do with them."
Of course, negative use of social media still exists, but many teens are learning to harness the power of social media for good and connect with each other to offer mental health support. Platforms like TikTok are embracing this new trend and have dubbed several users as well-being ambassadors. Through videos posted by well-being ambassadors and others, TikTok users are encouraging their community to lift each other up and offer tips and advice for a variety of mental health challenges.
Teens are also leveraging social media to have candid conversations about mental health issues. Social media handles dedicated to reducing the stigma of mental health issues have been used by teens participating in robust discussions. These same teens even created a podcast called "Teenager Therapy," where they have candid conversations about mental health. Dr. Michael Rich says, "It's one thing to have a conversation about something in a coffee shop, it's another to have it on social media, because it goes far and fast."
Mental health professionals are getting social.
Adolescents are also increasingly using social media to connect with a number of mental health professionals. Some mental health professionals have responded by creating their own accounts to offer mental health education and coping tactics (while occasionally throwing in a silly dance now and again). Through social media platforms, these mental health professionals can reach a wider audience, with some having over a million followers. Platforms like TikTok and Instagram are helping mental health professionals humanize who they are and what they do – and teens are taking notice.
How parents can promote healthy conversations about mental health with their teenagers.
As the downsides of screen time have often been discussed, parents may initially be hesitant to believe in the positive impact of their teenagers' social media usage. But Dr. Rich encourages parents to be open-minded to the potential benefits. However, like with most things in life, moderation is key and social media shouldn't be used as a replacement for direct professional, peer and parent interaction. Dr. Rich encourages parents to be balanced, mindful and present when it comes to their interactions with their children to help stay engaged and potentially spot any burgeoning issues related to their emotional well-being. Simple actions, such as sitting down with kids every day and sharing a meal will give everyone a chance to decompress and talk about emotions, which can lead to productive conversations. Dr. Rich also encourages parents to be mindful of their own actions during this time by making sure they're modeling behavior they expect their kids to follow, by putting down their electronic devices and being present during these conversations as well. "Kids hear 1% of what we say and 100% of what we do. So, we have to use social media in effective ways. And we also have to know when it's not the best tool for the job and put it down," says Dr. Rich.
Celebrate the positive, but don't ignore more serious signs of poor mental health.
While it may be refreshing to see social media being harnessed for good in support of mental health conversations, it cannot serve as a replacement for support and help. If anyone you love shows signs of more serious mental health conditions, it's important to immediately seek professional help. And if you or someone you know is considering suicide, please contact the National Suicide Prevention Lifeline at 1-800-273-TALK. From support groups to helplines, there are many resources for teens who are struggling. There are also plenty of resources for families or friends who may be watching someone struggle. Even if there aren't any indications of mental health issues, starting the conversation with your teen about how to use social media wisely, in balanced and mindful ways, is important. Remember, when it comes to mental health, support comes in many different offerings, both online and in-person.
Learn more about behavioral health resources at Harvard Pilgrim Health Care and Tufts Health Plan.
Keep a pulse on the health trends that matter today.