Remote work is at an all-time high due to the ongoing COVID-19 pandemic, and finding ways to boost morale with your employees can be difficult during these challenging times. Particularly as meetings now take place virtually via phone or video calls, the camaraderie that typically takes place in person—whether during lunch, in between meetings or casual conversations in the break room—may not be happening as frequently, if at all.
That's why coming up with ways to stay connected, even while social distancing, is crucial now more than ever. One way to stay connected is through a healthy dose of friendly competition. Doubling as a way to focus on health, wellness and self-care during these uncertain times, encourage your employees to join you in one (or all) of our well-being Bingo board challenges.
How to play:
Save: Save a board to your device:

If on desktop, right-click the image to save.
If on mobile, either hold your finger down to save the image or screenshot and crop.
On either device, you can also click the "download" link below each board to be taken to a page with just the image, ready to save or print.

Start: Finish as many as you can in a week for each board, marking each off either on your social profile or on your own.
Share: Share them with your colleagues of course, but also your friends on social – and tag them so they can join in – for a great way to stay healthy and connected!
We would love to recognize you and your employees as you complete the challenges. Tag Harvard Pilgrim Health Care when you post your board and we'll share on our channels!
Stay motivated to stay active
As fitness studios and gyms (including those in-office) continue to remain temporarily closed, prioritizing exercise and staying motivated can be challenging—especially without the in-person support of work out partners, teammates or friends. Determining more creative ways to work out is key though, as exercise has been proven to offer immune system and mood-boosting benefits.
Encourage your employees to motivate each other, whether that's promoting the use of a standing desk for the day (which very well may be a kitchen counter at this point in time) or suggesting everyone takes a walk during a team call. And for those walking or running outdoors, make sure to note that it's important to maintain distance from others and touch as little as possible. Some experts even say to double your distance, so try working out in less-populated areas or during off-times of the day.
Fitness can also be a great way to connect your employees virtually – share ideas, or hold each other accountable for trying new things. Join an online class as a team, such as Harvard Pilgrim's free yoga or Zumba sessions, or challenge your employees to join you in a game of Exercise Bingo.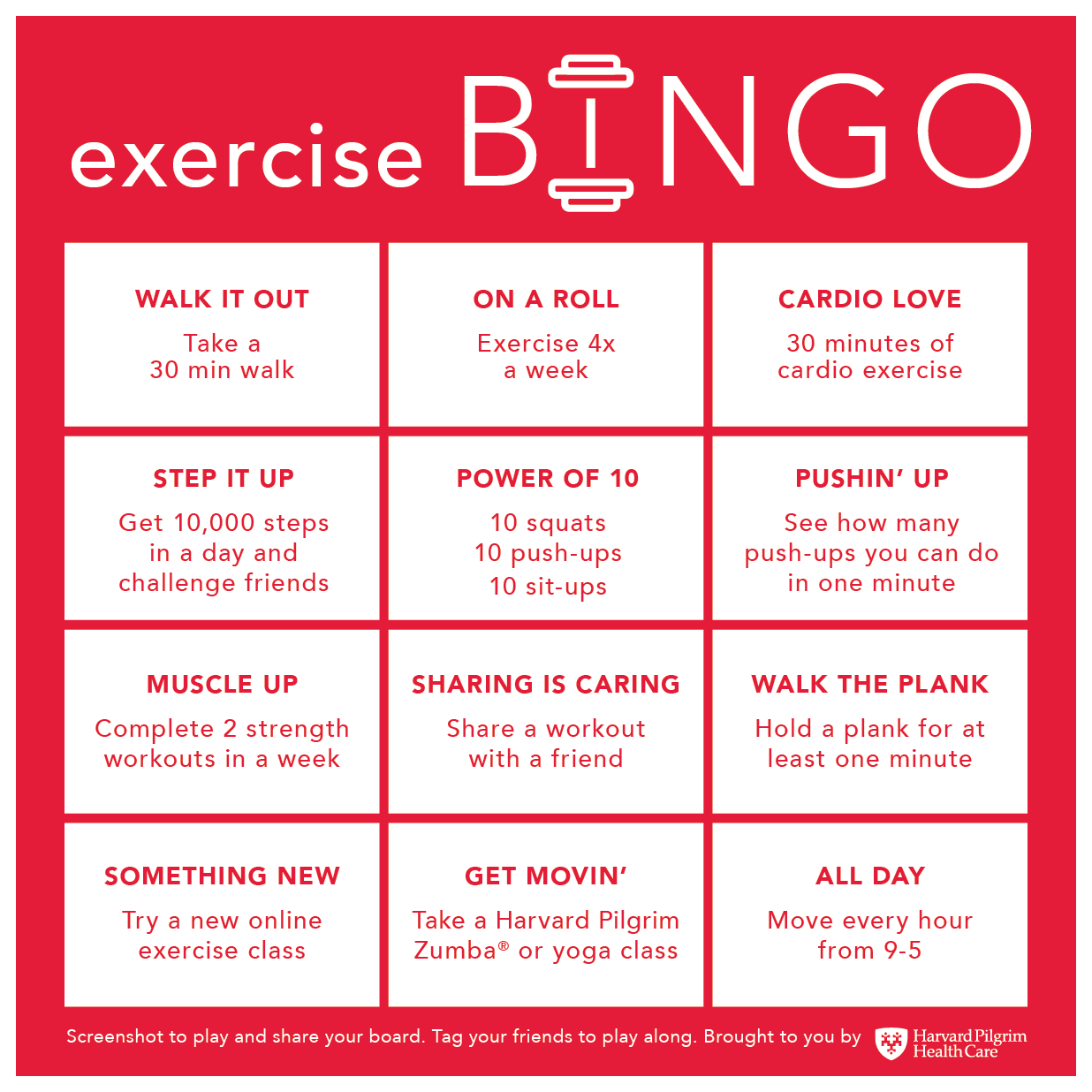 To download the Exercise Bingo board, click here.
Keep a pulse on the health trends that matter today.
Join your team for lunch
Though seeking out comfort food during this stressful time is not unusual, keeping your diet full of  healthy foods offers some surprising benefits including improved mental health and immunity. And with people cooking more meals than ever at home, finding a routine can help to stay on track. For instance, packing your lunch like you would while going to the office can provide a sense of normalcy (and allows you to plan your meal ahead), as recommended by Cynthia Ring, Chief People Officer at Harvard Pilgrim.
Food and nutrition is also another area where you can promote team bonding. Encourage virtual lunch dates among employees, where colleagues can eat lunch while catching up on work and personal events. Or consider trading in the virtual happy hour for a virtual cooking hour. Ahead of time, determine a recipe to try and cook it together. Or if time is a factor, try a recipe swap in a group email instead.
For more ideas on how you and your team can mix up your cooking and diet routines at home, check out the Nutrition Bingo board challenge.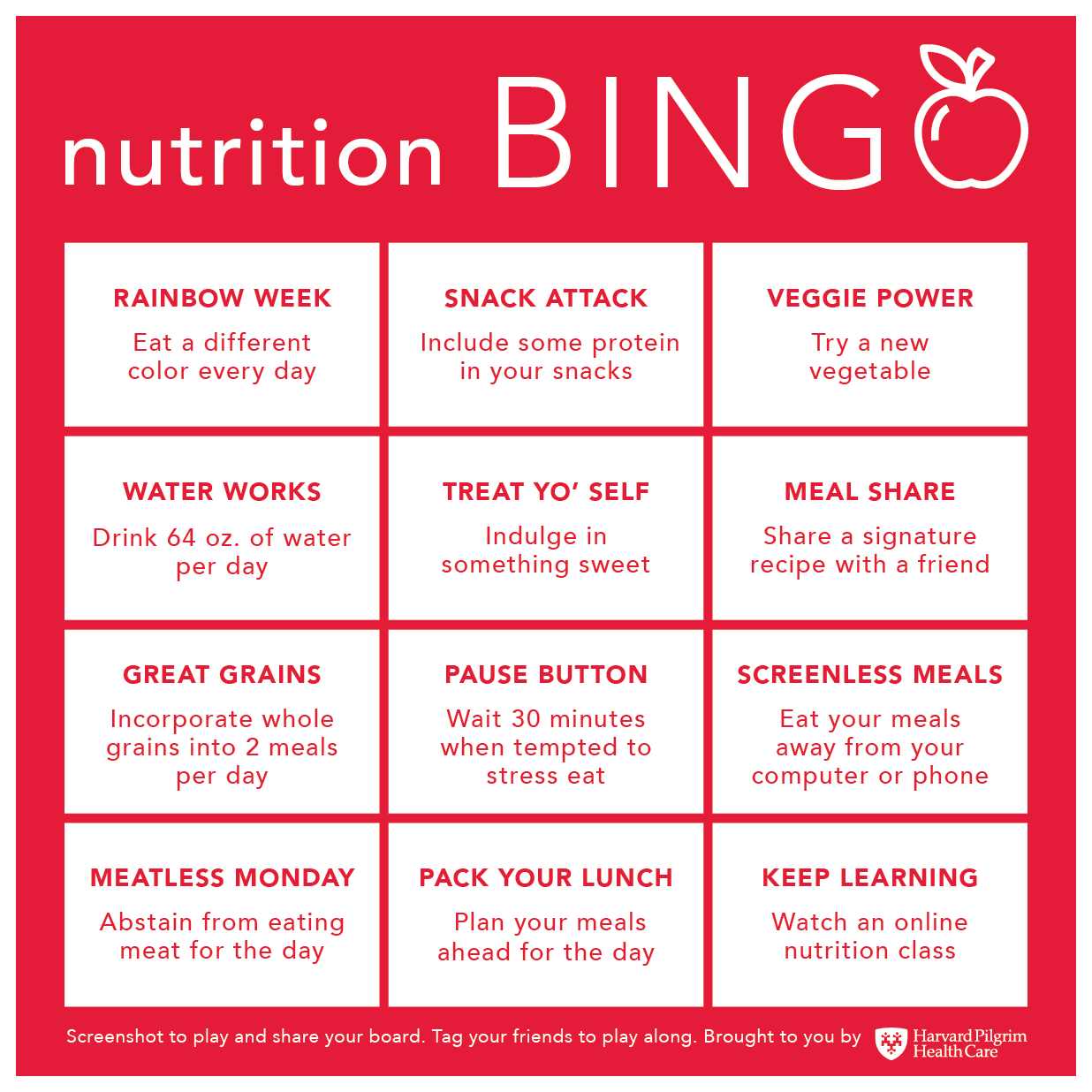 To download the Nutrition Bingo board, click here.
Manage stress together
With all that's going on across the country (and in the world) right now, stress and anxiety levels may be higher than normal for you and your employees. Deep breathing, stretching and meditation are among some of the tips that the CDC has shared to help cope. Share these tips with your team,  or devote the start of each workday to a quick, team meditation. Online resources such as mindfulness sessions can help, too, so sign up together to participate virtually.
And while it's important to stay informed, it's also necessary to take breaks from the news and social media. Encourage your team to make time to relax, as well as be open about how they're feeling during this time.
Also be aware of your company's health insurance plan's options when it comes to mental health care during the pandemic. Many health plans have increased access to mental health support through different channels, such as a virtual visit. Be sure to remind your team of any telemedicine options that are available to them.
To help your team stay mindful and centered, give  our Mindful Bingo game a try.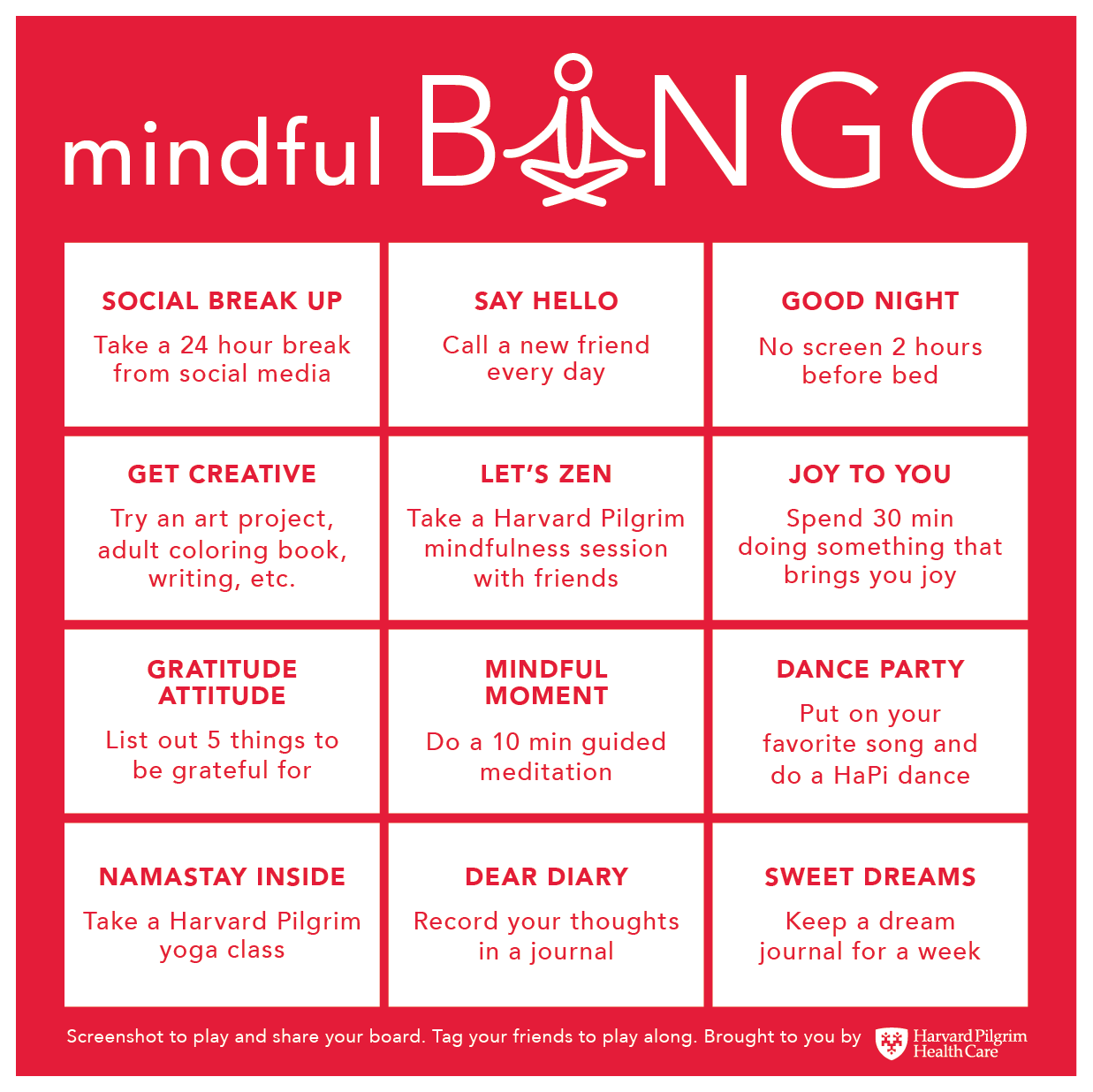 To download the Nutrition Bingo board, click here.
Harvard Pilgrim's well-being programs are here when your employees need them the most. The Living Well at Home virtual offerings include live mini meditation sessions and webinars that cover topics from working well at home to how to get a better night's sleep. All are available at no cost to your team – even if they're not Harvard Pilgrim members.