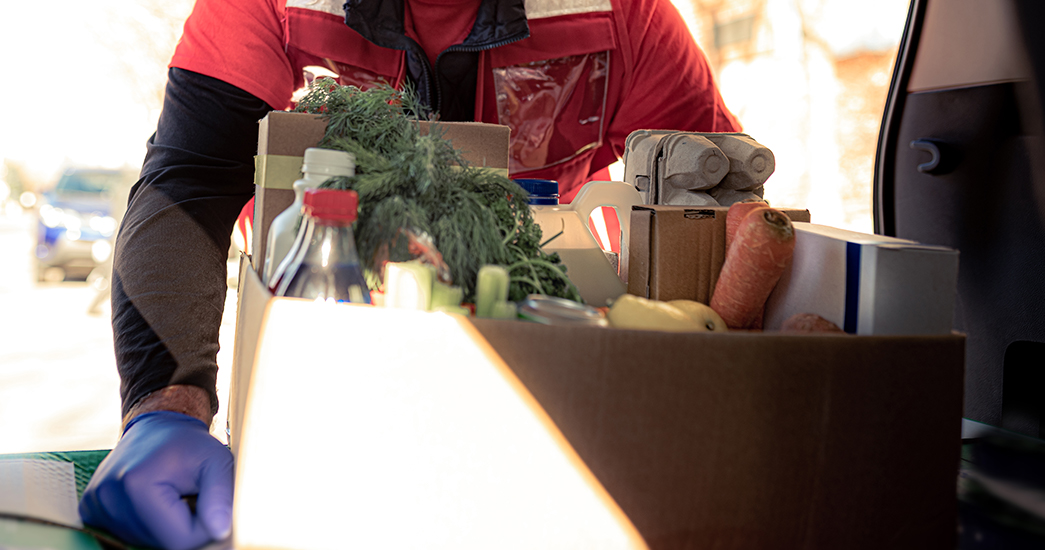 In times like these, our country is supported by many types of heroes: health care workers, teachers, caretakers, cleaning staff, food servers and grocers, local activists, and more. Their collective dedication proves that there has never been a more important time to come together. Across the United States, not a single community is left unaffected by COVID-19—yet undeniably, this pandemic has hit some populations much harder than others. While the virus itself does not discriminate, many low-income neighborhoods have been especially affected, as residents are more likely to be essential workers, use public transport, and live in densely populated buildings, making social distancing a challenge. Access to adequate health care and nutritious food in these places is an added issue, and as a result, this crisis has disproportionately affected already susceptible populations.
Despite the obstacles that COVID-19 has created, local organizations have risen to the occasion. Determined to make an impact in these uncertain times, nonprofits have been quick to mobilize and take innovative approaches to meet the physical and emotional demands of those who need them the most. For some, that may include access to food, housing, health and community services, and personal protective equipment (PPE). For others, the needs may not be as obvious, like technology for older adults to help them stay in touch with family and friends.
---
"It's been nothing but love when I come there." – Tammy Lawrence, mother of three from Roxbury, MA
---
In Roxbury, Massachusetts, the Dimock Center provides a number of health and family services for more than 19,000 local residents. To continue to support the area's underserved communities, the Center quickly adapted its facilities to ensure uninterrupted care, transitioned specific patient services to telehealth platforms, and mobilized educators for remote learning. But following the closure of the Center's early education programs, access to onsite learning wasn't the only concern for young families.
To help provide nutritious food throughout this time, the Dimock Center partnered with Fresh Food Generation and CommonWealth Kitchen to provide pre-packaged healthy meals and fresh produce twice a week to more than 90 families. "Knowing that my children are still receiving these essential meals at home has really taken a huge burden off of me," writes Tammy Lawrence, a mother of three. "There are times when I couldn't make it and Dimock's staff went out of their way to bring the meals to me. It's been nothing but love when I come there."
Throughout New England, the Harvard Pilgrim Health Care Foundation has given more than $7.1 million in COVID-19 relief grants to help local nonprofits like the Dimock Center carry out the important work they're doing for those in need. "This partnership delivers fresh, healthy meals to our most vulnerable neighbors during these challenging times," said Michael Carson, President and CEO of Harvard Pilgrim Health Care and Chair of the Foundation's board of directors. "It is designed to support social distancing, take care of those most at-risk for complications from COVID-19, and help put people whose jobs have been impacted by COVID-19 closures back to work. We remain committed to providing the necessary resources to support community-focused initiatives around the region."
Explore the map below to find resources in your area that can provide you and your loved ones the support you need:

While these grants are a game changer for many nonprofits, Foundation President Karen Voci explains how the real heroes are the local volunteers and leaders spearheading these initiatives, despite barriers. "When you're up against the wall, your only choice is to go forward," says Voci, applauding the agility and dynamism of community organizations during this difficult time. "Their spirit is inspirational. I think it's the sense of doing something together with and for people in their community that's concrete. They're feeding people. They're connecting with people. Everyone comes together when gathered around the table."
---
"When you're up against the wall, your only choice is to go forward." – Karen Voci, president of the Harvard Pilgrim Health Care Foundation
---
Gabby Guzman-Jerry, a senior at University Park Campus School, is one such example. Guzman-Jerry is a leader at the Regional Environmental Council's YouthGROW program in Worcester, an urban agriculture-focused youth development and employment program for low-income teens. "It's been great to see how people have supported each other," says Guzman-Jerry. While her final semester is looking a lot different than planned—with prom canceled and her graduation speech recorded over video—she's still making a memorable impact by putting together food boxes of fresh fruit and vegetables for families in need. She also partners with her grandmother to make snacks and meals for their family and friends every weekend. "The community has risen to this challenge, and it makes me proud to see how this has happened," she says. "Good things are coming out of this bad situation."
In New Bedford, the Foundation has also partnered with local, small businesses to prepare and deliver free, nutritious meals to more than 100 older adults each week. "We are fortunate for the opportunity to be working with Harvard Pilgrim to provide meals for the elderly in our community, who otherwise would have difficulty acquiring meals for themselves," says Jessica Coelho, owner of Tia Maria's European Café, one of the restaurants participating in the program, along with Destination Soups.

Not only does the project provide these much-needed meals to older adults' homes—delivered directly by Yes! We Van—but also a lifeline for the local restaurants whose business has declined since social distancing guidelines began. "In our particular case, we have spent six and a half years and countless hours building our brand up to the point it is today. COVID-19 came in and wiped out all of that hard work, just like that," says Coelho. "We are forever thankful for the support the community has displayed both to us and for others. It is our promise that we will do the best we can to continue to provide positive experiences, interactions, and of course, food!"
---
"We are fortunate for the opportunity to be working with the Harvard Pilgrim Foundation to provide meals for the elderly in our community." – Jessica Coelho, owner of Tia Maria's European Café
---
The Foundation is supporting similar projects delivering meals to older adults and those in need in Manchester, New Hampshire; Bridgeport, Connecticut; and Portland, Maine. Yet food isn't the only way local organizations are partnering with the Foundation to help older adults. In Dover-Foxcroft, Maine, the residents of the Hibbard Skilled Nursing & Rehabilitation Center and Hilltop Manor received new iPad 4 tablets to help communicate with their families via Zoom and social media. The Commons at Central Hall helped facilitate the donation with a grant from the Foundation, and are also offering regular check-in phone calls for seniors in need of a friendly voice.
For the Connecticut Institute for Communities, Intercommunity, and the Community Health and Wellness Center of Greater Torrington, another area of need is PPE, such as hospital masks and gowns. Grants from the Foundation help these centers purchase adequate protective equipment and cleaning supplies to keep their staff on the front lines safe.
For those interested in making a difference within their own community, Voci recommends considering an extra contribution to a charity they already support. "When we're home and isolating, it's the best we can do." She also suggests reaching out to local nonprofit organizations and asking how else you can be of service. "They may have some interesting ideas on how you can help besides giving them a check," says Voci.
For 40 years, Harvard Pilgrim Health Care Foundation has supported nonprofit organizations across Massachusetts, Maine, New Hampshire, and Connecticut to help build healthier communities. This impact is possible because of the tireless efforts of strong community leaders and dedicated volunteers coming together to support their neighbors, especially during this time. "It's not going to be easy," says Voci. "But we'll come out okay on the other side."