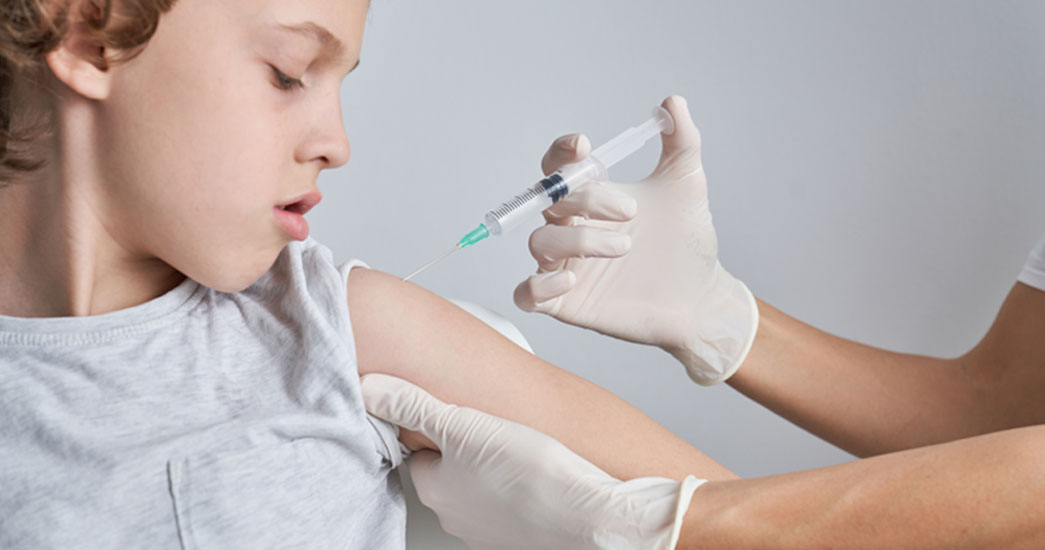 The coronavirus pandemic has rapidly changed everything about the way we live and work. Preventing COVID-19 is now a leading health concern and has shaped our day-to-day lives. In the process of trying to stay home and stay safe, crucial preventative care was pushed to the back burner for the first half of the year. In fact, since COVID-19 was declared a national emergency in the US, routine doctor visits and vaccinations have seen an alarming drop.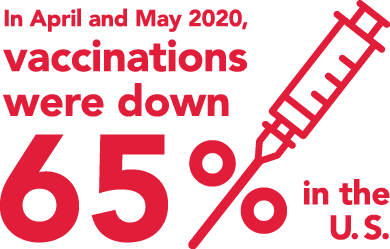 Dr. Patricia Toro, MD, MPH, and Associate Medical Director at Harvard Pilgrim Health Care, says "In April and May, we saw a 65% decrease in vaccines and immunizations compared to the same time period in 2019. While the numbers are back on the rise, we're still not at pre-March levels. This trend is very troubling and could make the pandemic worse if it's not addressed."
In the early phases of the pandemic, this drop happened across the country, including in the most at-risk age groups, and particularly during the peak of the stay-at-home orders when doctor's offices were temporarily closed. According to one analysis, vaccination rates for the week of April 6th were down an alarming 83% for adults 65+, compared to the same timeframe in 2019. For age groups between 2 and 64, rates were down more than 70%. In New York City alone, vaccinations in children were down 60% between March 23 and May 9 compared to the same 6-week period in 2019.
---
"Measles are much more contagious than COVID-19. We just can't afford to have another outbreak on top of it." – Dr. Patricia Toro
---
For decades, routine vaccinations have kept pandemics of the past at bay. As Dr. Patricia Toro points out, "measles are much more contagious than COVID-19. We just can't afford to have another outbreak on top of it." Although we don't have a coronavirus vaccine yet, we do have a safe and effective flu vaccine. However, if people don't get their flu shot, we might face a surge in both flu and COVID-19 infections this winter—both of which can impact your ability to breathe. For this reason and more, routine immunizations have never been more important.
Safe strategies for getting vaccinated during the pandemic
For parents, it should be comforting to know that medical providers have put in place stringent safety protocols for preventative and immunization visits based on local, state and CDC guidelines. For example:


Keeping special office hours just for infant immunizations.


Requiring masks, gloves, and onsite temperature checks to protect both patients and staff.


Turning parking lots into waiting rooms, having patients wait in their cars, and sometimes delivering vaccinations right in the car.



Screening questions before patients and parents enter the office.


Scheduling sick visits and well-child visits at different times of the day or in different locations.
Flu vaccinations are crucial
The flu vaccine is typically available starting in September, and this year, it's important to get it earlier in the season before flu season reaches its peak. With potentially more hospitalizations due to COVID-19 in our future, hospital capacity may become a concern as we face the 2020-2021 flu season. For at-risk age groups, including children and older adults, there are additional vaccines that are crucial to staying healthy:
Vaccines for babies and children
Vaccines for older adults
Flu
Pneumococcal
Tetanus/Diphtheria
Shingles
Preventative care is important to our overall health and wellbeing, especially during a pandemic. Our individual actions, such as wearing a mask or getting vaccinated against preventable diseases, are extremely important parts of our local, state, and national response to COVID-19. If everyone does their part, we can avoid preventable outbreaks on top of the global pandemic.
Note: Harvard Pilgrim is monitoring the coronavirus (COVID-19) outbreak and what it means for our members and communities. If you are interested in specific information from Harvard Pilgrim regarding COVID-19, please visit our website.