Immunizations – this year they are more important than ever!
Be a Flu Fighter!
We don't know what the fall and winter will bring this year, and that means that flu vaccines will be more important than ever. Doctors recommend everyone six months of age and older get a flu vaccine every year. It's especially important for people at high risk for developing flu complications.
Getting a flu shot this fall can help to:
Protect you and your loved ones from becoming sick with the flu
Conserve medical resources for COVID-19 care
Protect frontline health workers and the most vulnerable people in the population
When and where members are covered to get the flu shot
It's important for everyone to get a flu shot this year, and we're making it easier by covering flu shots received at participating pharmacies for members ages 3 and older.*
*Pediatric flu shots for members age 3-18 are covered at pharmacies for the entire 2020-2021 flu season.
October and November are good months to get the flu shot but getting it as late as December or beyond still helps. The Centers for Disease Control is working with vaccine manufacturers to make sure health care providers have what they need to safely give flu vaccines this year.
Harvard Pilgrim members are covered to receive flu shots from the following health care providers at no out-of-pocket cost. We recommend members call ahead regarding hours, scheduling and availability for children. Members should make sure the provider or clinic accepts Harvard Pilgrim insurance and will submit a claim. Members must also bring their Harvard Pilgrim ID card with them when receiving the flu shot.
Primary care provider or family pediatrician
Participating MinuteClinics (MA, NH, ME, RI and CT locations only)
Participating retail pharmacies in Harvard Pilgrim's pharmacy network (for example, CVS, Walgreens), for members ages 3 and older. Fluad, Fluad Quad and Fluzone HD are covered for members 65 and older only.
Public and community-based clinics
For the latest information, please visit https://www.vaccines.gov/get-vaccinated/where.
Additional Flu Resources – Centers for Disease Control & Prevention
CDC (English)
CDC (en Español)

Visit our COVID-19 guide for coronavirus resources.
Don't forget your routine check-ups!
Ensuring your health and well-being is at the heart of everything we do. In cooperation with our provider network, we encourage you to keep up with all routine check-ups, screenings and vaccinations.
The COVID-19 pandemic may have delayed your routine visits, but medical offices and clinics in Harvard Pilgrim's provider network are working to ensure your safety. If you haven't yet scheduled appointments for these services, please do so as soon as you can.
Don't forget to schedule your Annual Well Visit. This visit is covered in full on most plans*, and it provides the time and place for kids and adults to get important vaccinations.
*To review your coverage, log into your member account and click the "Plan Details" tab, then "Benefits & Eligibility" to access your Schedule of Benefits. Review "Physician and Other Professional Office Visits" to learn how your plan covers routine examinations for preventive care, including immunizations.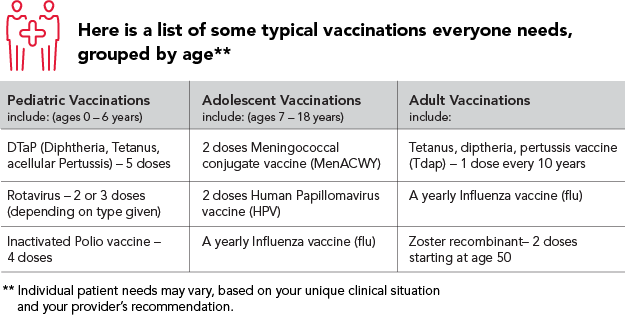 For a complete list of the vaccine recommendations by age, visit www.cdc.gov/vaccines.

Update your contact information
Make sure we have your latest email address so that you can stay informed about vaccines and other testing. If you'd like to receive text messages with additional information on topics like this and more, please visit our healthy text message page.