Between 2020 and 2022, LGBTQ+ identification increased from 5.6% to 7.1%, and one in five Gen Z adults identified as LGBTQ+.
The U.S. population is diversifying in many ways, and fast. And as Javier Barrientos, chief diversity officer of Harvard Pilgrim Health Care's parent company Point32Health notes, this has implications for organizations and the way they attract and retain talent from diverse backgrounds.
We sat down with Javier to learn more about creating inclusive work environments and allyship when it comes to LGBTQ+ and underrepresented employees, and how employers can be more thoughtful with their overall diversity, equity, inclusion and accessibility (DEIA) strategies.

What is a truly "inclusive" workplace?
Inclusion has become a frequently used term, but what does it really mean? Javier helps unpack the concept of inclusion by breaking it down into two dimensions: authenticity and belonging.
"Authenticity means that the individual embraces who they are, their own diversity," says Javier. There is understanding and acceptance in a person's differences and their ability to comfortably be themselves. But as Javier notes, just because a person is authentic doesn't mean they belong, and vice versa. He uses the example of his mother, a successful businesswoman working in the male-dominated, meat-wholesale industry. "My mother belonged in that environment. She was respected. She was welcome. [But] she was not her authentic self in many ways. To belong there, she had to behave more like the men. And so, all her aspects of being a woman and being a mother–none of that was welcomed or invited by her male peers."
Javier shares that the same principle can apply to the LGBTQ+ spectrum of identities. "If the environment isn't safe or embracing of sexual orientation, gender identity and expression, members of these communities will suffer and even conceal their identities." In a truly inclusive environment, authenticity and belonging come together. "You get to be authentic, and you can belong for who you are," says Javier.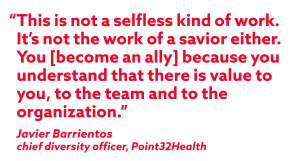 The critical role of allies
When considering inclusion of minority communities, like LGBTQ+, allies aren't nice-to-haves: they're essential. Javier explains that, as the majority, allies are often the ones who hold the power. "They control the systems, the processes, the procedures that influence how an organization, a team, a country runs–and so we vitally need that allyship." He explains that being an ally can be simple. It involves being present and supportive of meaningful action, such as redesigning policies, processes and systems–inside and outside of the workplace–in favor of making such things more accessible and inclusive for everyone.
Javier offers some reflective questions organizations can ask themselves to help determine if they've been/are being an ally:
How am I being a part of the solution?
How am I helping this community forward?
How am I creating a more equitable environment?
How am I removing barriers?
How am I mentoring, promoting, developing and sponsoring talent?
These questions are great for organizations and for personal self-reflection alike. Javier says, "This is not a selfless kind of work. It's not the work of a savior either. You [become an ally] because you understand that there is value to you, to the team and to the organization. There are further benefits to society when creating these more diverse and agile environments. Allyship, from this perspective, is not done as charity to the underserved or underrepresented, but to prepare ourselves and our world to maximize human potential in all its forms and leave no opportunity unrealized."

Strengthening your DEIA strategy
Javier challenges employers to look at their DEIA strategy as three essential components–individual, organizational and systemic. With the individual component, the personal and interpersonal aspects require people to understand and be comfortable with who they are and then go beyond themselves, making a habit of interacting and learning from people who are different. "Expose yourself to different perspectives that enrich your thinking, the organization's and the team's. We are all pieces of a puzzle that is only complete when many backgrounds come together," adds Javier.
The organizational component requires leaders like hiring managers to consider who still needs to have a seat at the table. Javier challenges organizations to ask themselves, "how can I enable and enrich the mix of people around this table so that I can get better decision making, more perspectives, a different reach or different community that I haven't been able to reach before?"
The third component involves systems. Which systems such as policies, processes and procedures does your organization implement that might create disparities for the underserved or underrepresented? One area to look at is physical space. Are you considering those who may have disabilities? Do the photos hanging in the office represent a diverse population? Additionally, upward mobility and recognition should function in a way that gives all employees a fair chance to succeed. It also includes making sure your organization offers equitable benefits to meet the needs of diverse populations. Harvard Pilgrim Health Care partners with Health for LGBTQ+ health services, which offers personalized health benefit support and guidance to connect LGBTQ+ members with high-quality, in-network care.
The cost of falling behind on inclusion
When it comes to inclusion and the role of DEIA, Javier explains that by not actively striving to create a more accessible, inclusive environment for all, organizations are only doing a disservice to their own potential and success. "There is great power, potential and innovation in bringing different people together. Study after study has shown that companies, for example, that have a richer gender and racial mix outperform their competitors, are more innovative and are also safer," adds Javier.
Throughout the year, remember to reflect on your organization's DEIA strategies and systems, for the benefit of all.
Keep a pulse on the health trends that matter today.
Stay on top of health topics, technology and policies in today's changing world. Check the monthly newsletters you'd like to receive and start getting health news right in your inbox.