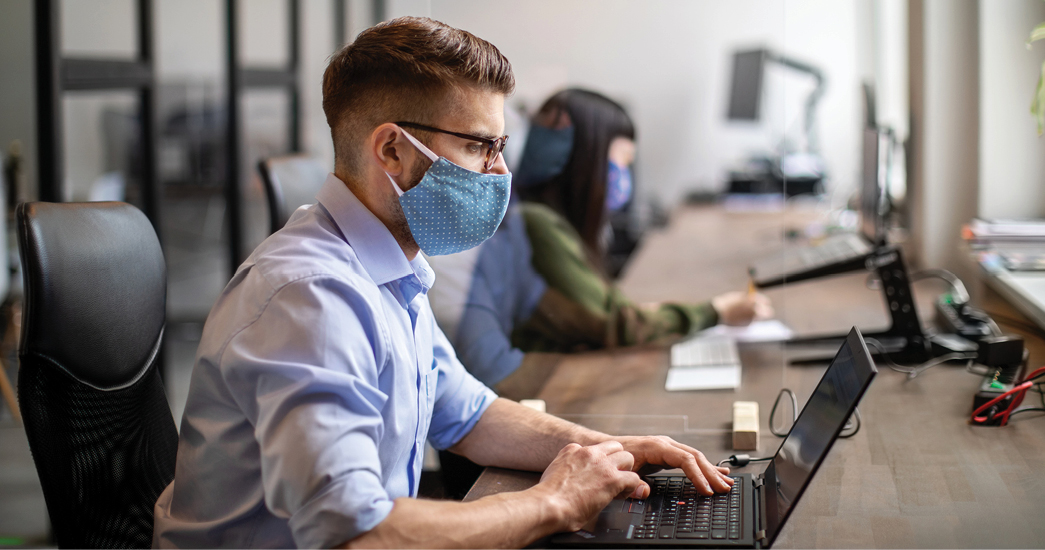 A year into the pandemic, wearing a face mask has become second nature, like leaving the house with a wallet or a purse. Moreover, masks continue to prove that when it comes to slowing the spread of COVID-19, they work. While KN95 masks are the most effective, filtering up to 95% of particles in the air, multi-layer cloth masks can block up to 50 to 70% of fine droplets and particles we release into the environment and limit the spread of droplets and aerosolized particles they don't capture.
In many Asian countries, wearing a mask was already an accepted part of everyday life pre-pandemic, especially during flu and cold season. Here we explore a few reasons we're likely to see mask-wearing stick around in the U.S. for the long term. For a local perspective, we also asked fellow New Englanders to share their thoughts on the current state of mask-wearing and how it may evolve in the future.
Wearing a mask can help prevent the spread of more than just COVID-19.
As the 2020-2021 flu season comes to a close, numbers are showing that the seasonal influenza was essentially nonexistent. At the end of February, labs reporting to the CDC had just 1,585 samples test positive for a flu of any kind. Compared to last year over the same time period, there were more than 183,000 positive samples. While factors like decreased contact from remote learning and office/school closures, increased COVID precautions such social distancing, handwashing and increased flu vaccine distribution played a role, so did wearing a mask. And while all pre-pandemic precautions won't remain in place permanently, there is something to be said for how communities can maintain a level of protection, especially when it comes to wearing face masks, to help fight against potentially harmful viruses in the future.

Businesses continue to look to the CDC for guidance despite state mandates.
While many states begin to reopen and lift mask restrictions, private companies are free to impose their own regulations. Macy's, Target and Kohl's were among those who recently stated they'd continue to follow CDC guidance mandating that employees, and in some cases both employees and customers, wear masks to protect workers and patrons for the time being.

What's more, the CDC recently issued a new order that requires masks to be worn at transportation hubs and on public conveyances, such as airplanes, ships, buses, ferries, trains, ride-shares and taxis. This order mandates that all travelers and personnel using on-board conveyances wear face masks while waiting and boarding, and for the duration of their travel into, within and out of the United States. With many restless Americans eager to get back to some degree of normalcy, we can expect needing to keep our masks handy in order to go about once ordinary activities, like shopping and travel.

Masks continue to protect us while we're learning how the vaccine works against COVID-19 and the virus persists.
Just four months in from the start of vaccine distribution, we're still in the process of understanding how the vaccine affects our collective protection. This includes the common questions of if people can still spread the virus after they've been vaccinated and how many people have to be vaccinated before most can be considered protected. As of April 2021, more than 163.1 million doses have been administered, fully vaccinating 19% of the total U.S. population. While progress has been made, we still have a long way to go before the majority of the U.S. population is vaccinated. Meanwhile, new COVID-19 cases remain high at nearly 63,500 per day. Keeping our face masks on is one of our most effective weapons for slowing the spread and protecting ourselves and others while the pandemic persists.

Should you consider double-masking?
The benefits of double masking, or layering a cloth mask on top of a surgical mask, are twofold. First, it improves the fit of a mask, preventing respiratory droplets potentially containing the virus from leaving or entering the face mask. Second, it increases the mask's filtration power making it difficult for potential virus-containing droplets to travel through to the mouth and nose. Here's a breakdown of the efficacy of double masking according to the CDC's studies:
In a coughing simulation…
The double mask blocked 85.4% of aerosol particles compared to 51.4% and 56.1% for a cloth and a surgical mask respectively.
In a breathing simulation…
When the source was wearing a double mask and the recipient was not, the aerosol exposure of the unmasked recipient was reduced by 82.2%.
When the recipient was wearing a double mask and the source was not, the aerosol exposure of the double-masked recipient was reduced by 83%.
When both the source and the recipient wore a double mask, aerosol exposure was reduced by 96.4%.

Face masks continue to prove they're a valuable asset for the long haul, protecting us and those around us against COVID-19 and other transmissible illnesses. With a year of learnings behind us and a future we can't predict, it may be better to proceed cautiously and hang onto your collection of masks for protection beyond the pandemic. And in the meantime, continue to mask up to limit the spread of COVID-19, its variants and other contagious respiratory infections.