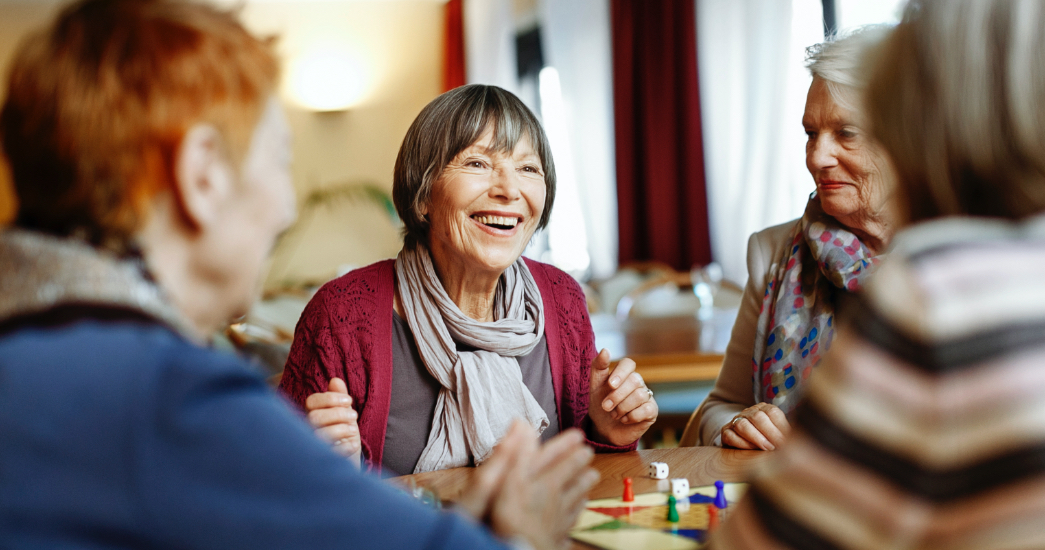 Aging is a natural part of life; however, it can be difficult for older adults to cope with the changes happening in their body, both physically and mentally. As people age, the structure of the brain changes, which can affect memory and thinking abilities—this means keeping the mind active is just as imperative as maintaining physical health.
COVID-19 restrictions and quarantine measures over the past year impacted the natural ways many older adults maintain their brain health, such as visiting a friend or having access to in-person activities through town-sponsored senior centers. It can be challenging to keep the brain sharp, but research has shown that healthy lifestyle habits can support cognitive health and reduce the risk for Alzheimer's disease.
It's important to note that while age-related forgetfulness is common, the risk for developing Alzheimer's and dementia increases with age. If you or someone you know is experiencing signs of Alzheimer's or dementia, such as asking the same questions over and over or having trouble following directions, be sure to consult with a doctor.
Here are some key ways to support cognitive function and keep your brain and memory sharp:
Learn a new skill
Learning something new is not only fun, but it can also help stimulate the brain. Studies have shown that older adults who learned a new skill had more memory improvement than those who only socialized or did less cognitive-related activities.
To figure out what new skills you'd like to try, ask yourself: Is there something you've always wanted to learn how to do? Perhaps you'd like to learn how to knit, use a certain program on the computer or bake a new recipe? Learning a new skill doesn't have to be a substantial change to your life. Something as simple as opening a cookbook you've had for years and making a new recipe can help build confidence and keep your mind sharp.
Stay social
Participating in social activities and engaging in conversations are good brain stimulators. Keeping in touch with friends and loved ones and maintaining connections will help keep your spirits up and your mind engaged. Ask your friends and family to spend time together or call them if they're far away.
You can also research activities offered within your community. Many town and city senior organizations have group fitness classes or book or gardening clubs. These are great places to interact with people that have similar interests. Surrounding yourself with those who bring you happiness and doing activities that you love is beneficial to your overall health and well-being.
Keep up with your hobbies
Hobbies such as playing chess, reading a book or doing a daily Sudoku puzzle can help boost overall cognitive function. Specifically, these hobbies may help sharpen quick-thinking skills, such as processing speed, decision-making and short-term memory. Many of these games and activities can also be found online if you're in need of a virtual partner or access to more reading materials and puzzles. For instance, in addition to playing chess or checkers online, apps like Audible and Words with Friends are good digital options for reading and puzzle games.
Maintain a daily routine
Daily routines can help you stay regularly engaged with the activities that you are familiar with. Whether it's making a cup of coffee every morning or doing laundry on a specific day of the week, our personal routines can give our brains a sense of comfort and stability. Figure out which routines work best for you and make sure to stick to them.
Improve your sleep schedule
Studies have shown that both insufficient sleep and sleeping longer than average can increase your likelihood of developing dementia. It is recommended that people over the age of 65 get seven to eight hours of sleep per night. If you're struggling to fall asleep, try practicing meditation, disconnecting from your electronic devices and avoiding big meals before bed to help achieve a better night's rest. However, if you're experiencing extreme tiredness or any symptoms that are preventing you from sleeping consistently, consult with your doctor.
Know where to get help if you need it
Aging can impact psychological health in addition to physical health. Conditions like anxiety and depression can impact our cognitive function and cause memory loss. Know the signs and symptoms of anxiety, and seek help if you think you or your loved one may be suffering. Irritability, loss of interest in activities you used to enjoy and loss of memory are several symptoms among many that may indicate you may need help.
Free resources, such as mental health treatments and support options, are available from the Centers for Disease Control and Prevention and National Institute for Mental Health. Additionally, your current health care plan likely includes behavioral health services. Harvard Pilgrim Health Care has access to multiple resources including support lines, professional behavioral health treatment options and online tools. Members can also search for a behavioral health specialist to fit their specific needs.
Please note, if you or someone you know needs helps now, contact the National Suicide Prevention Lifeline at 1-800-273-TALK.
Stay active
Being physically active keeps your body healthy, resulting in a healthier mind. In fact, recent data has shown that regular aerobic training may offset or prevent age-related cognitive decline in older adults who are at increased risk for Alzheimer's. Whether it's going for a walk or participating in an exercise class, physical activity is important for maximizing brain function and improving overall health. Harvard Pilgrim offers complimentary virtual fitness classes if you're looking to try a new activity such as yoga or Zumba.
Eat healthy
Eating a balanced, healthy diet for seniors can help support brain health. Make sure you incorporate healthy foods into your daily routine. Fruits and vegetables are excellent choices as they are packed with antioxidants—leafy greens, grapes and blueberries are all especially good options. Additionally, fatty fish, including salmon, tuna and herring, contain DHA omega-3 fatty acids and help protect the brain and reduce the risk for Alzheimer's.
Everyone's body is different so talk with your doctor to determine the best food options for your specific body and dietary needs.
Being proactive about brain health will help you stay sharp and prevent age-related cognitive decline. There are many ways to support a healthy mind and keep it sharp—not only to improve everyday quality-of-life, but to help reduce the risk of dementia and memory loss. Remember, age is just a number and it shouldn't define who you are.
Keep a pulse on the health trends that matter today.