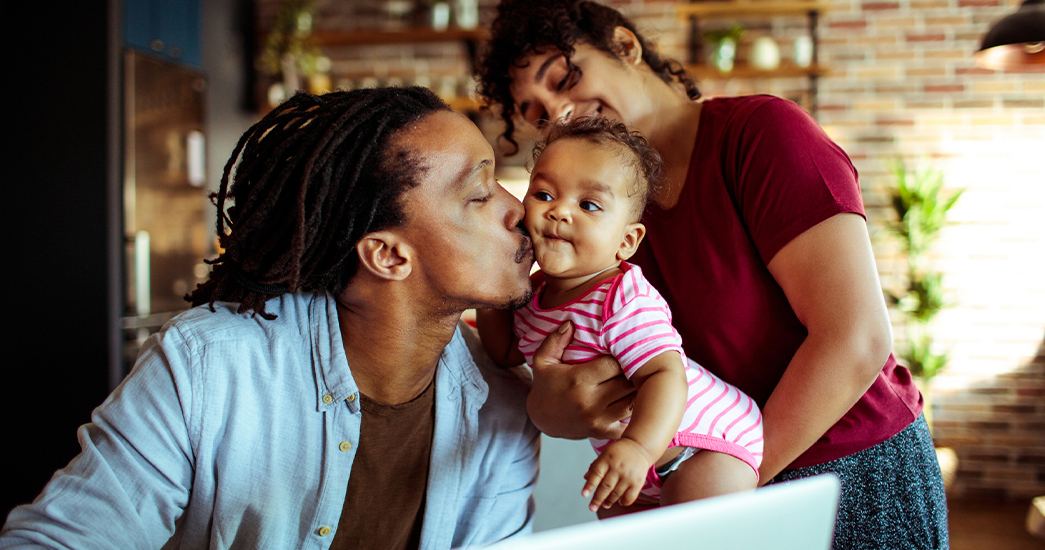 If 2020 was good at one thing, it was catching everyone off guard. For many, it felt like a constant game of catchup between the latest pandemic news and evolving rules and regulations. And with COVID-related health concerns and balancing new lifestyles taking priority, routine health care often took the backseat.
Fortunately, with the vaccine in initial rollout and lessons learned behind us, 2021 shows hopeful signs of more stability, making it a great time to reprioritize your and your family's health care. From setting healthier habits, understanding and maximizing your family health insurance benefits, and preparing for potential challenges, there are plenty of opportunities to stay ahead of your loved ones' health needs so you're ready to take on any change the new year brings.
Check out seven tips for creating a comprehensive health plan for your family in 2021:
1. Get up to date with vaccinations
While the COVID-19 vaccine is top of mind in the new year, it's important now more than ever to stay on top of all vaccinations. As Dr. Patricia Toro, MD, MPH and associate medical director at Harvard Pilgrim notes, "measles are much more contagious than COVID-19, and for decades routine vaccinations, like the measles vaccine, have kept prior pandemics from resurfacing."
If your loved ones haven't been for their routine checkups since the pandemic hit, find some time to get appointments back on the calendar in 2021. For those erring on the side of caution, know that medical providers have put rigorous safety protocols in place for preventive and immunization visits. A list of protocols can be found here.
2. Consider choosing a plan that includes an HSA or FSA
Depending on your family's health needs, a health financial account like an HSA (health savings account) or FSA (flexible spending account) could help make your money work harder for you. Both HSAs and FSAs are savings accounts that can be used for out-of-pocket medical expenses and health care needs, like prescription drugs and vision care.

Before jumping into either, it's important to understand the differences between the two and what's available with your health plan. For example, with HSA accounts you own the account, so your ability to access the funds doesn't expire, you can take it with you as you switch jobs, it can be invested in mutual funds, stocks and bonds, and it can even be used to save for retirement. FSAs, on the other hand, have more restrictions. Because they're owned by your employer, you can't take an FSA with you if you leave, and any leftover money gets forfeited at the end of your insurance year.
When considering an HSA, it's also important to think about how frequently you see your health care provider(s). HSAs can only be contributed to if you're covered under a federally qualified high-deductible health plan, which often incur more out-of-pocket costs for care. Some employers that offer a health plan with an HSA will partially fund the account on behalf of their employee to help offset these out-of-pocket costs throughout the plan year. Check with your employer to see if this is an option for you.
3. Understand your employer's benefits before taking the job
Maybe you're looking to switch up your career in 2021. When comparing options between employers, many often forget to pull health benefits into the decision-making process. Out-of-pocket medical expenses can affect your overall compensation, so understanding the full picture of your benefits package is an important tool to use as leverage in your negotiation process and ultimately determine what's best for your family.
Before accepting a new role, consider these tips:


Ask your prospective employer to share detailed information about their company's health care options.

Pay attention to premiums (your per-paycheck coverage cost), deductibles (what you'll need to spend before insurance kicks in) and coinsurance (the cost of each care visit).

Note cost increases with the addition of your spouse and/or children and any exclusions. For example, some plans don't cover pre-existing conditions or long-term care.


Some employers will contribute to HSA and FSA accounts, so make sure to inquire.
4. Plan for any elective procedures you or your family will need
This year, elective procedures that got put on the back burner in the height of the pandemic are coming back around, and maybe some new plans snuck into your purview. When it comes to some medical care, it can be hard to understand what's covered, what isn't and what you'll actually pay in out-of-pocket costs after all is said and done.
Before getting that appointment on the books, take some time to research your options and prepare for what to expect financially. Harvard Pilgrim members can use the Estimate My Cost tool to compare the cost of the necessary service or treatment in your area. Members also have access to Reduce My Costs, a voluntary program that makes it easy to save money by finding care at a lower-cost facility for elective, outpatient medical procedures and diagnostic tests.
Maybe you're already a parent, or maybe you're planning on becoming one this year. While new parents can expect to need more robust coverage to save on costs, parents of older children may be able to hand over the reins and slim down their own offering. Here are a few things to keep in mind with family health insurance benefits depending on your family's situation:


If you're expecting a new addition…
Look into plans that support necessities like regular visits to your doctor, fetal ultrasounds and hospital stay for labor and delivery.
Pay attention to cost-sharing–plans may vary for maternity benefits.
Check to see if your current or potential insurer offers additional programs for new and expecting mothers. For example, Harvard Pilgrim Health Care offers their members access to the top health apps for women and families, Ovia Fertility, Ovia Pregnancy and Ovia Parenting, at no additional cost.

If your children are entering college…
While keeping them on your plan is still an option, many schools offer student health plans that make basic insurance coverage easy and affordable.
College students can also look into marketplace health plans that cover essential health benefits.

If your children are approaching 26…
Under the Affordable Care Act, dependents age off of their parents' health plan when they turn 26.
Help your kids get ready for the transition and understand their options, which depending on their situation, could include enrolling in a plan through their employer, enrolling in a marketplace plan or enrolling in Medicaid or the Children's Health Insurance Program (CHIP).
6. Improve everyday health habits
45% of Americans made a health-related goal in 2021, and if you're one of them then you're already a step ahead. If not, it's never too late to find new ways to be healthy that the whole family can work toward together. Consider dedicating a few hours each week for a family walk to get everyone outside and moving, or implementing a "meatless Mondays" policy for delicious plant-based meals you can cook up together.
Just remember to be realistic when it comes to goal setting. With everyone's lives and schedules still turned upside down, it takes a lot of effort to make just one habit stick. Angelique Sobol, communications specialist on the Health Engagement team at Harvard Pilgrim, recommends starting small, being specific and striving for consistency to help everyone stay on track for the year. And for Harvard Pilgrim members, the Living WellSM Everyday program is here to support you with discounts and savings just for participating in health-related activities, including healthy eating, fitness, holistic wellness and alternative medicine.
7. Make time for mental health
This year, and especially now as we enter the peak season for seasonal depression in New England, the need for mental health support is no less important than it was at the height of the pandemic.

Sources: Mental Health America & American Psychological Association
Consider ways to check in on everyone's mental health and what mental health benefits and services your plan might include. If you're a Harvard Pilgrim member, you have access to dedicated 24/7 support lines, professional behavioral health treatment options (both in-person and virtually), online tools and discounts on wellness programs and care. Members can also access Sanvello, a mobile app that helps track your daily mood and provides coping tools, guided journeys and access to licensed therapists and support communities.
Bottom line–there are plenty of ways to create a complete health care plan the whole family can feel good about this year. Just remember, you don't have to do it alone or tackle it all at once. Tap into your health plan's customer service for questions, and be sure to take advantage of any free apps and tools they have available.
Keep a pulse on the health trends that matter today.