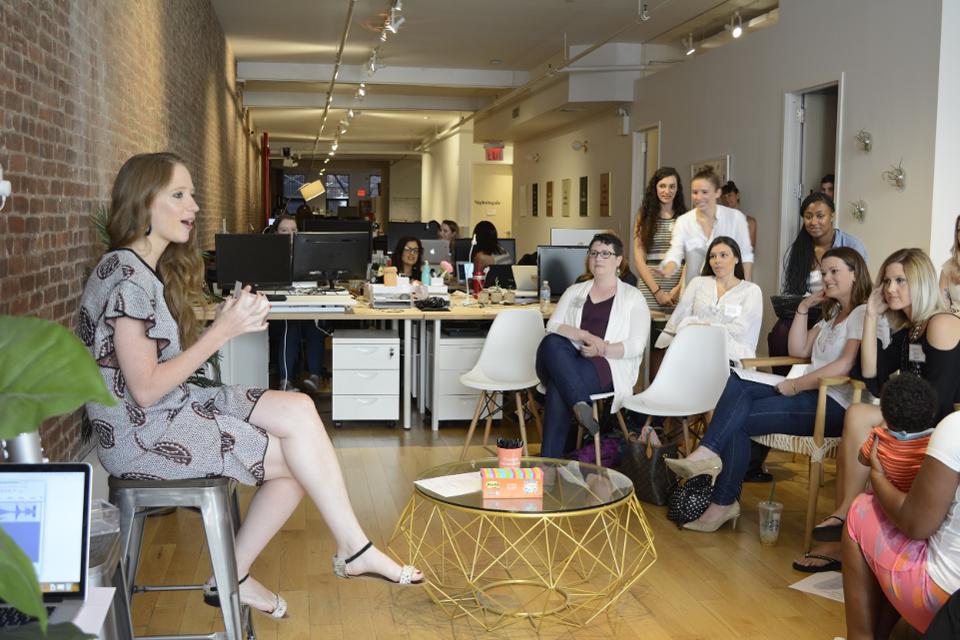 As technology transforms the healthcare industry, experts say digital health has the potential to reshape every step of health care delivery, including for women's maternal health.
According to research by McKinsey & Company, some 70 percent of consumers now prefer digital healthcare solutions. But while data shows that U.S. women are more consistently engaged in their healthcare decisions than men, digital solutions for reproductive healthcare were lacking.
Maven founder and CEO Katherine Ryder is one of the many innovators striving to meet consumers' growing expectations for digital health solutions. She is rewriting the playbook for corporate maternity leave with a digital healthcare app aimed at improving women's health outcomes – and companies' bottom lines.
Maven's family benefits platform covers fertility, maternity and return-to-work benefits to support new parents. Women and families can use the platform to access online healthcare support from more than 1,200 providers across the U.S., including OB-GYNs, nutritionists, therapists, lactation counselors, pediatricians and career coaches.
Seeing white space for women
Among family benefits, fertility services are a big business: The global assisted reproductive technology market is predicted to top $31 billion by 2023.
Yet when she first founded Maven in 2014, Katherine Ryder noticed a huge disconnect in the the emerging digital health field.
"A lot of the consumers of digital health businesses were women," she said, "But the core experience that many women go through of starting a family and struggling with something like infertility or miscarriage or postpartum depression wasn't being addressed at the most basic level."
A recent report found that while three in four expecting mothers in America say they're excited to return to work after giving birth, more than 40 percent of them end up leaving their careers. Among those who do return to work, half switch to a lower-paying job at a family-friendly employer.
That's an issue for the women themselves. It's also a costly problem for employers faced with recruiting and training replacements for new mothers who leave.
The average U.S. maternity leave after the birth of a child is about 14 weeks – a number that's dropped slightly over the past decade, according to a 2016 study by the Society for Human Resource Management. Research shows that's not enough time for physical and emotional postpartum recovery – especially for the increasing number of women having children when they are older.
But even when companies can afford to offer more generous maternity leave, they still need to improve the range of care and support women receive after having children, the study finds. Some 90 percent of new moms, for example, experience separation anxiety after they return to work.
"Sometimes people think pregnancy is just this medical experience that is about physical health," Ryder said. "The emotional element is clearly very much a part of it as well."
---
The global assisted reproductive technology market is predicted to top $31 billion by 2023.
---
A new model of doctor-patient interaction
By investing in maternity and return-to-work services, Ryder believes that companies can build an improved paradigm that benefits both new parents and employers of any size.
Some of the problems are obvious. Doctors typically spend eight minutes or less with patients in person. But during the perinatal period, women and families may need more time and care.
The use of digital technology for women's health can create a more continuous line of communication between patients and healthcare providers through features such as video appointments, online messaging and on-demand access to specialists. So far, the Maven platform has helped more than 150,000 people in 166 countries get better access to care.
"The promise of digital healthcare is it allows you to scale and democratize access," Ryder said.
One of the greatest benefits of telemedicine is accessibility. Over half of U.S. adults with a mental illness do not receive treatment, according to a 2018 report by Mental Health America. And both patient engagement and follow-through suffer when patients lack either access to care or confidence that a recommended treatment will work, reports telehealth provider Teladoc.
Treating mental health in a virtual setting can benefit not only new parents, but also patients who have limited mobility, live in rural areas, are away from home or lack paid sick leave.
In response, health care providers and insurers, like Harvard Pilgrim Health Care, are turning to digital care solutions. A leading non-profit health services company based in New England, Harvard Pilgrim is using technology to proactively expand access to behavioral health services, including treatment for postpartum depression, relationship issues, workplace stress, anxiety or loss. Its members can now use a smartphone, tablet or computer to receive convenient and confidential behavioral health virtual visits with licensed, U.S.-trained psychologists and psychiatrists through Doctor on Demand, a national telemedicine provider group of board-certified physicians.
Harvard Pilgrim's suite of digital solutions to support postpartum members also expanded through a collaboration with Boston Children's Hospital on a Parent Portal, through which members can access a 24/7 digital symptom checker and decision support tool to help manage a child's healthcare.
Keep a pulse on the health trends that matter today.
A surging digital health market
While many patients today have at least heard of virtual doctors, Ryder recalled a time when the idea was still "very novel." In her company's early days, it was difficult to fundraise because digital health was still a relatively new industry.
Another early obstacle, she added, was trying to speak about women's health in a fundraising landscape where most investors are male and lack personal experience with issues like postpartum depression.
Over the past five years, however, the digital health market has surged: At the end of the third quarter, 2018 is already the most-funded year for digital health startups, reports Rock Health, a venture fund dedicated to digital health.
Maven, which grew by a factor of 14 over the last year, is reaping the benefits of industry expansion, Ryder said. In September, the company clinched a $27 million investment led by Sequoia Capital and Oak HC/FT – companies with strong female investors.
Going forward, the company – which currently works with employers – is looking to expand its customer base to include health insurers. Ryder also hopes to contribute to the public health dialogue by sharing anonymized data from the platform's users.
A recent analysis, for instance, showed that of more than 700 new moms surveyed, the majority reported both depression and anxiety, while a full 32 percent experienced a mood disorder during pregnancy. And over half of those 700-plus women were not routinely screened for mental health at any stage of pregnancy or postpartum – a major gap in care for new mothers.
Ryder said technology can help close that gap and expand care by connecting more patients with providers.
"The power of great healthcare is that it's human," she said. "It's a relationship between a patient and provider to navigate some of life's greatest mysteries and biggest challenges."