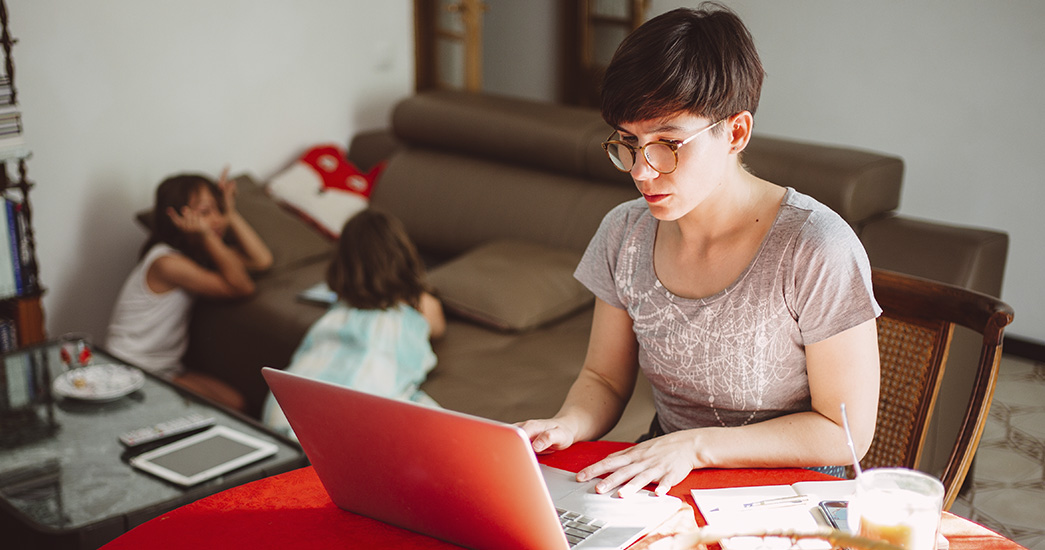 From health insurance to improved well-being, remote work offers myriad benefits.
Update: This article first appeared on Globe.com on December 11, 2019 by Robin Catalano. Since then, many companies in Boston and beyond have enacted temporary work-from-home policies as a precaution against the spread of COVID-19. This article is intended to support employers and employees by bringing awareness to ways remote work can work for them and the potential negative effects to help mitigate them, especially during this crucial time.
Scott Dawson's day begins like most workers', with an e-mail check and a to-do list review for his employer, Intercontinental Exchange. But by the time he's on his second coffee, the web designer and developer's day diverges. He pauses to look outside. As conference calls start at 9:30 a.m., he patches in via video, joining his colleagues in New York, Massachusetts, and a handful of international locations. After meetings are done, he laces up his sneakers and goes for a run in his neighborhood near Ithaca, New York, then returns for lunch—leftovers, always homemade. He spends his afternoon working, uninterrupted, in a spacious office, surrounded by things he loves—maps of the Finger Lakes, pictures of his wife and kids, and his pet rabbit, Phoebe, who naps nearby, lulled by the clacking of the keyboard.
Thanks to the rapid evolution of technological connectivity, more and more professionals like Dawson are choosing to work remotely. According to one study, between 2005 and 2015, the number rose by 115%. Another study found that between 2012 and 2016, the number of remote workers increased from 39% to 43%. Today it's estimated that more than 26 million Americans work remotely at least part of the time.
And many full-time employees prefer a remote option to job titles, stock options, and common office perks. As a 2017 analysis by Gallup summarizes, "The most meaningful [perks] aren't rock climbing walls and unlimited beverages. The benefits and perks that employees truly care about are those that offer them greater flexibility, autonomy, and the ability to lead a better life."
This is exactly what Candace Feldman sought. Her position as managing director of Kinetic Light, a disability dance ensemble based in California, allows her to work in her field while serving as caretaker for her elderly father in Kansas City. "I knew my next position really needed to be one that I was passionate about and that wouldn't risk my time with my dad," she says. "It takes a lot of pressure off me to not have to be at an office while he's alone."
A benefit with benefits
The physical and mental health benefits afforded by remote work are well documented. Because they experience fewer disruptions—including from multitasking, which recent studies have linked to cognitive damage—remote workers engage in longer stretches of productivity. Working remotely eliminates long commutes and their associated health effects, including neck pain, obesity, high blood pressure, increased stress, and sleeplessness. There's also more time for exercise and cooking healthy meals, or even just taking a break outdoors, which offers a slew of well being wins.
And it's not just the employee who benefits. Instead of limiting their options to only candidates who live locally, employers who offer a remote-work option widen their hiring pool to the top talent from all over the world—who work rain, sun, or snow. From fewer sick and personal days to a smaller real estate footprint and the reduced consumption of electricity and office resources, there are plenty of tangible benefits to a company's bottom line.
Karyn Martin, partner at Zozimus, a Boston-based marketing and advertising agency, points to one more. "Creativity is at the crux of what we do," she says. "Being out of the office and in your environment, whether that's working from your home office or your favorite roof deck in the city, gives an entirely different stimulus that's necessary for the creative process." As employee satisfaction has risen, she notes, the work product has improved. Clients have taken notice—translating to larger contracts for the company.
Distance disadvantages can be avoided
There are a few downsides to remote work. Companies need a bigger up-front investment in technology to keep their workforce connected, though most already subscribe to the usual suspects, like Slack and Zoom. Creating mutually agreeable schedules with geographically distributed colleagues can be a challenge, as can establishing boundaries around when contact is appropriate—and when it's not. Managers must also trust that the work is being done.
Meanwhile, the biggest obstacle for remote workers is the blurring of boundaries between work and life, due to the lack of physical separation. Social and professional isolation—missing out on watercooler chat, social gatherings, and opportunities for job growth—are also concerns. Because of this, remote workers need to make a greater effort to seek out connections, and their in-office colleagues must aim for inclusiveness in their communications.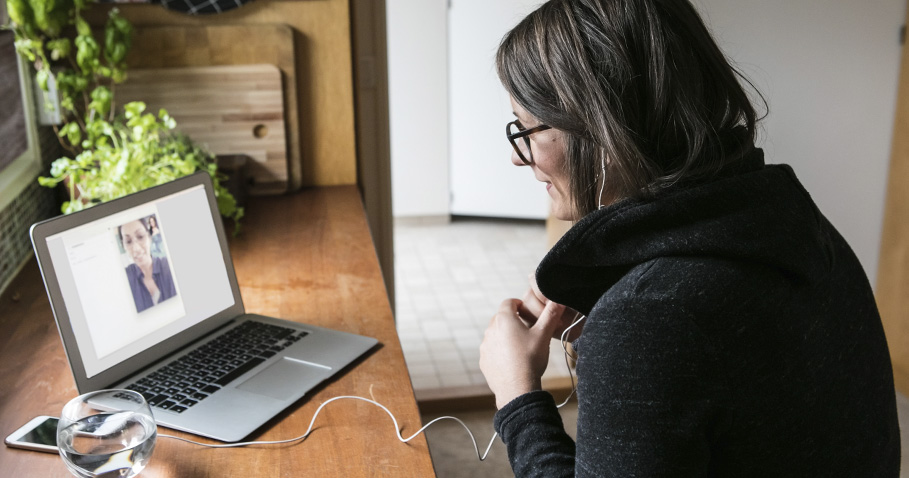 Access to support and resources, near or far
Companies that offer a remote policy also need to consider how it will affect the options within their benefits package—a key element in helping recruit and retain top talent.
"Most employers want to give the same benefits to remote workers and in-office workers," explains Beth Roberts, senior vice president of commercial business at Harvard Pilgrim Health Care, a family of companies that provides health benefit plans, programs and services to more than 3 million members, mainly in New England. "What they should also focus on is making sure that all employees, regardless of where they do their work, have access to the support and resources that will help them select the benefit options that are right for them, and help them fully maximize the coverage that comes with these benefits."
Because of the challenges inherent in managing this process for both on-site and remote employees, Harvard Pilgrim has created tools that benefits managers can use to educate and guide employees—whether on-site or at a remote location—to maximize the services that are available to them through their benefits. SmartStart, a digital platform that smooths the onboarding from an employee's previous health plan to a new one, is one such tool that ensures that all employees feel the same level of "concierge" service during the transition—regardless of their location. SmartStart users also receive access to MyHealthMath, which uses predictive modeling to help members understand the cost of their healthcare within their region, and helps them choose the best plan option offered by their employer, based on their geographic location, financial interests, and needs.
"Access to quality health care can vary significantly depending on location," Roberts explains. "And with health insurance often being the foundation of an employee benefits package, what is most important is for the employer to make sure that even if employees are geographically distributed, they can still access high-quality care."
Shared goals, shared gains
While some industries, like tech, marketing, and customer service, are a natural fit for telework, others, such as retail and R&D, may need some creative configuration to offer a remote option. As for the long-held belief that collaboration or teamwork aren't possible if people don't share the same space?
Andrew Hally, senior vice president of marketing at Bynder, maker of digital asset management products in Boston, says, "I really don't find that to be true. Our culture is built around being remote. When you need to collaborate, you can dial in or chat with someone. Video call is on by default." When surveyed, 80% of Bynder's employees agreed, rating video and Slack as "very valuable" in obtaining real-time feedback.
Relationships and information sharing can be cultivated  in other ways. Roberts points to Harvard Pilgrim's well-being platform, powered by Limeade, as a solution. Through it, employees can create vibrant, collaborative communities around shared interests such as fitness, nutrition, and financial support, and connect through chat or forum-style posts. Employers are also sweetening the benefits of collaboration and engagement by sponsoring challenges that encourage employees to work toward shared goals, and offering participants gift cards and other rewards.
"Employers are leveraging this technology to create connection opportunities between onsite and remote colleagues that create healthier relationships – both on a personal and professional level," Roberts says. 
Beyond the benefits to employer and employee, remote work also makes good economic sense. "I could not command the salary I make in my small town of two thousand," Dawson notes. "As companies further embrace remote work, we'll see a redistribution of wealth outside traditional centers of commerce. It will take time, but the economic impact is significant. And that's good for everyone."