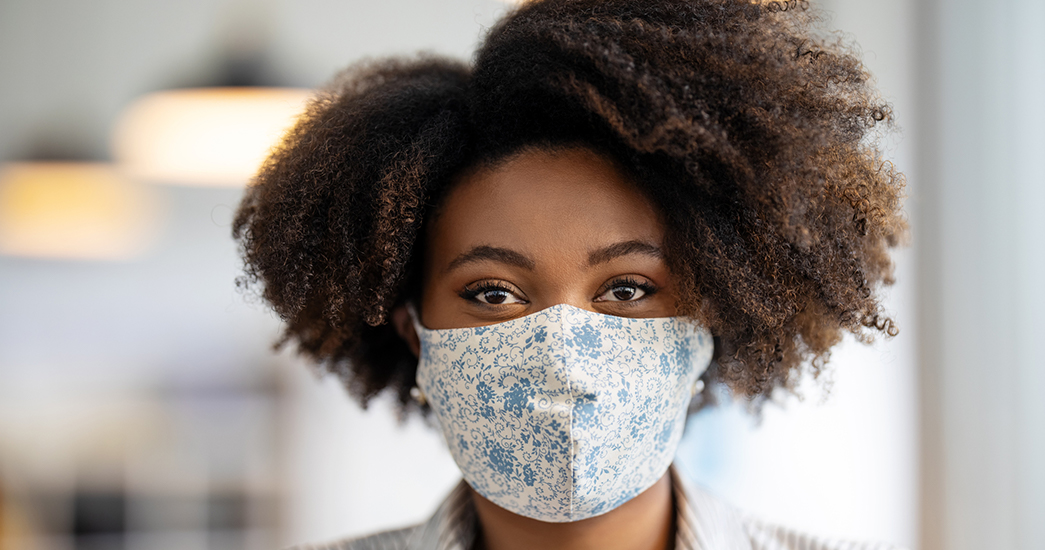 Note: This article (written by Tom Connor) first appeared in the Boston Globe on September 28, 2020 as a sponsored content piece from Harvard Pilgrim Health Care.
When the coronavirus pandemic finally runs its course, a central symbol of its scourge—and its end—will be a small piece of paper or cloth: The face mask.
Early guidance around protective masks in the U.S. was unclear. In late February, the Centers for Disease Control and Prevention (CDC) discouraged the public from purchasing them. But by April, the CDC began recommending that people wear cloth masks in public settings. Official guidance grew more pro-mask from there, including over 30 states that now require masks in certain settings.
Still, some have been slow to heed the advice.
"People are skeptical by nature," says Dr. Ashwatha Narayana, director of the Cancer Treatment and Wellness Center at Northern Westchester Hospital in Mount Kisco, New York. "I think something had to be really hard for them to realize the seriousness of the issue, to see that this is something they really have to do."
Before the hospital mandated wearing masks in mid-March, even about half of Narayana's staff became infected with the coronavirus. "In New York, where early on we had 800 deaths per day," he says, "we learned it the hard way."
Research has shown that the virus is spread most easily through airborne transmission. According to the latest findings from the CDC, the novel coronavirus is spread through respiratory droplets released by coughing, sneezing, or talking at close range. A new study released in August from the University of California, Davis, and the Icahn School of Medicine at Mt. Sinai paints a potentially more alarming picture: influenza viruses can also be carried on dust, fibers, and other microscopic particles in the air, which could have implications for COVID-19 transmission as well.
These are just some of the recent findings on how the virus is spread that highlight the need for face coverings that filter airborne particles in social situations.
---
"When states or cities or communities add on more physical distancing and mask wearing, you see the rates of infection go down, and we see that consistently in all parts of the country—urban, suburban, rural." - Dr. Patricia Toro
---
"Masks are an important piece of a larger strategy," says Dr. Patricia Toro, associate medical director for Massachusetts at Harvard Pilgrim Health Care, a not-for-profit health services company. "When states or cities or communities add on more physical distancing and mask wearing, you see the rates of infection go down, and we see that consistently in all parts of the country—urban, suburban, rural." She notes that this is true of home-made masks, not just official N-95 masks.
This isn't the first time the world has relied on these small pieces of paper and cloth to protect us, either. During the 1918 influenza pandemic, San Francisco and other Western U.S. cities adopted mask ordinances, calling wearing them a patriotic duty and calling those who refused to wear them "dangerous slackers." Between 1918 and 1919, about 675,000 in the United States lost their lives to the Spanish Flu.
Despite enormous advances in medicine and technology since then, over 200,000 Americans have died from COVID-19 since March of this year, when cases and fatalities began being counted according to the Coronavirus Research Center at Johns Hopkins University.
Now, experts caution a second COVID-19 wave could come this fall, much like it did at the peak of the 1918 influenza pandemic. Infectious disease specialists have issued a dire warning: If protective measures aren't adopted on a wide scale soon, the U.S. death total could reach more than 370,000 by the end of the year.
A simple, protective measure that could prevent that morbid statistic? Masks.
In September, the Institute for Health Metrics and Evaluation (IHME) at the University of Washington's School of Medicine, issued a report predicting that over 700,000 lives could be saved worldwide between now and January 1 through proven measures such as mask-wearing and social distancing.
"We are facing the prospect of a deadly December, especially in Europe, Central Asia, and the United States," says IHME director Dr. Christopher Murray. "But the science is clear and the evidence irrefutable: mask-wearing, social distancing, and limits to social gatherings are vital to helping prevent transmission of the virus."
At a recent Senate hearing, CDC director Robert Redfield also called masks "the most important, powerful public health tool we have."
As strange as it seems, sometimes the best solutions to society's biggest challenges really are the simplest: Keep your distance. Wear a mask.
Keep a pulse on the health trends that matter today.