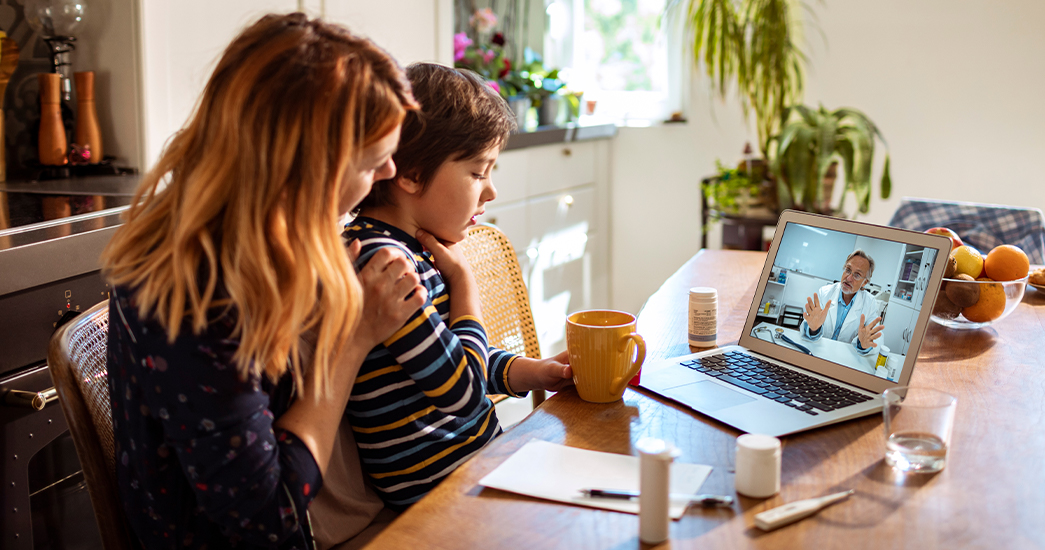 As we continue to live through a global pandemic, the flu may not be top-of-mind. However, the seasonal flu, which caused up to 65 million cases and an average of 40,000 deaths in the U.S. alone prior to the pandemic, should not be ignored. For older adults, children younger than five, pregnant women and others at a higher risk for complications, getting the flu vaccine is especially important.
Find out how to prepare for this year's flu season and explore some tips for staying healthy as the weather starts to turn.
Fighting back flu season
Flu diagnoses tend to spike between fall and winter, though the illness can stick around as late as spring. Because the flu is transmitted through airborne droplets, COVID-19 preventative measures like wearing a mask, practicing social distancing and staying home when you feel sick may help reduce flu transmission. However, the most effective way to avoid contracting and spreading the seasonal flu is to get vaccinated every year.
Getting vaccinated
To stay protected for the duration of the flu season, the CDC recommends getting your vaccine by the end of October, or as soon as possible—and there are a number of places where you can get it. The flu vaccine is recommended for anyone age six months and older, and if you're 65 years or older you're eligible for an enhanced flu vaccine, which is specifically designed to create a stronger immune response in older people.
If you're not already vaccinated for COVID-19 or you're eligible for a COVID-19 booster, you can safely get both your seasonal flu vaccine and your COVID-19 vaccine or booster during the same visit to protect you from both illnesses.
Catching enough ZZZs
Did you know even a small loss of sleep has been shown to reduce your immunity? Studies show that you're more likely to get sick after being exposed to a virus if you experience poor sleep or don't get enough sleep, and that a lack of sleep can also impact how quickly you recover from illnesses like the flu. Help your body build up its natural response to protect itself against illness by getting at least eight hours of sleep regularly. With routine adequate rest, you can help keep your immune system in fighting shape.
Eating and moving well
Another boost for your immune system can come from your kitchen. Eating plenty of nutrient-rich fruits, vegetables and whole grains can help. Many of these foods contain vitamins that can help your body fight off the cold and flu, such as vitamin C, vitamin D, vitamin B6, magnesium and zinc. Daily supplements of these vitamins can also help, as can green tea which is a known source of antioxidants that helps ward off flu viruses.
Is it the seasonal flu, COVID-19, or something else?
Since many symptoms of the seasonal flu overlap with other illnesses like COVID-19, the common cold and seasonal allergies, it can be difficult to know which you might be experiencing. The key differentiating symptom that makes COVID-19 more likely is the loss of taste and smell, notes Dr. Jennifer Young, Assistant Medical Director of Primary Care at Doctor on Demand.
Use this chart to help you determine what your symptoms could mean and the best path forward to caring for your health: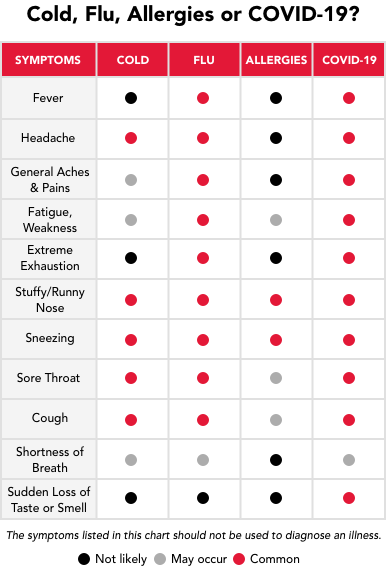 In addition to these tips, the CDC offers even more ways you can stay healthy this flu season amid the ongoing pandemic. Practicing these tips can help keep yourself, your family and others around you safe for months to come.
This article has been updated as of December 7, 2021. To stay up-to-date on the latest healthcare topics such as the future of health care, new ways to be healthy or the business of insurance, sign up to receive our monthly communication:
Keep a pulse on the health trends that matter today.