NEW! Effective January 1, 2020, the Reduce My Costs program is included for all fully insured commercial plans in Massachusetts, New Hampshire, Maine1 and Connecticut, at no cost to employers or members.
Reduce My Costs helps members find care at lower-cost facilities for outpatient medical procedures and diagnostic tests – making it easy to save money on out-of-pocket costs, especially for high-deductible plans.
How Reduce My Costs works
1. A Harvard Pilgrim member contacts a Reduce My Costs nurse at (855) 772-8366 or through the easy-to-use chat available at the Reduce My Costs website whenever an outpatient test or procedure is scheduled, such as:
Radiology (e.g., MRI, and CT scan)
Bone density study
Lab work
Colonoscopy
Mammogram
Other non-emergency outpatient tests and procedures
Ultrasound
2. The experienced nurse will:
Compare provider costs and inform the member of lower-cost options
Assist with paperwork and appointment scheduling or rescheduling
3. If the member is already seeing a lower-cost provider, he or she will receive a reward just for calling2
4. If the member decides to receive care from a lower-cost provider, he or she will earn a reward 3, depending on the service and the associated cost savings.
Examples of procedures, costs and savings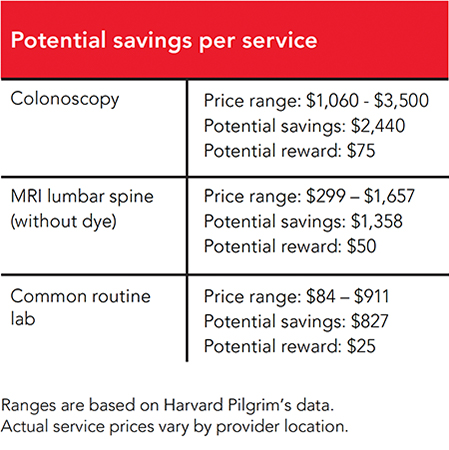 Learn More
Reduce My Costs is available as a buy-up for self-insured large groups (51+ FTE) at preferred pricing of  $2.50 per employee/per month fee and the employer funds the incentives. For more details, ask your Sales representative.
For more information, please contact Harvard Pilgrim at (800) 848-9995.
2$150 minimum savings for reward.
3 Reward payments are considered taxable income. Massachusetts members may receive a maximum of five Reduce My Costs rewards per calendar year. Per state regulations in Connecticut, rewards are in the form of health and wellness gift cards.