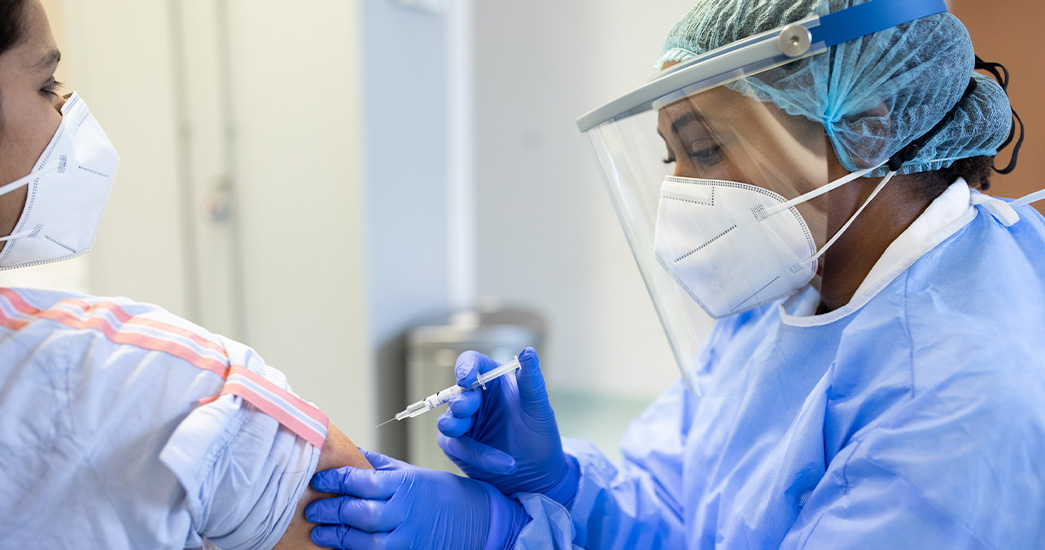 Note: The CDC and FDA lifted a pause on the Johnson & Johnson COVID-19 vaccine on April 23, 2021, after a thorough safety review that followed reports of rare and severe blood clots, combined with low levels of blood platelets, in individuals who received the vaccine. Learn more.
With the vaccine rollout ramping up across the country and the administration's recent directive to make COVID-19 vaccines available to all adults no later than May 1, many people are beginning to see the light at the end of the pandemic tunnel. While some states, like Massachusetts, have announced earlier dates for adult vaccine-eligibility, it will likely still be several months until everyone can receive the coronavirus vaccine.
Since the beginning of the COVID-19 vaccine distribution campaign, there have been many questions around development, safety and efficacy. And while most of these questions have been addressed, consumers are still unclear about what the process of getting their vaccine actually looks like, and what they should expect after they get their vaccine shot (or shots).
To help answer these questions and provide more clarity, we've gathered expert guidance and insights from Dr. Patricia Toro, MD, MPH, infectious disease specialist, as well as trusted medical sources.
Here's what you need to know before, during and after your vaccine appointment:
How to prepare for your vaccine appointment
After a year of isolation and stress, getting the COVID-19 vaccine can be an emotional experience for many people, some even stating that they felt a huge sense of joy and relief after becoming fully vaccinated. While many eagerly await becoming eligible to schedule their vaccine appointment(s), it's important to know how to prepare before you roll up your sleeve. To ensure everything goes smoothly, here are a few key steps to take before your appointment:
Avoid taking over-the-counter medications.
The Centers for Disease Control and Prevention (CDC) recommends that people don't take over-the-counter medicine, such as ibuprofen, aspirin or acetaminophen, before getting the COVID-19 vaccine for the purpose of trying to prevent vaccine-related side effects. If you regularly take these medications, however, the CDC suggests you continue taking them before the vaccine. Dr. Toro notes that it is important to talk to your provider about any existing medications you're taking and if there are any known risks or concerns. It is also not recommended that you take antihistamines before getting the vaccine in an effort to try and prevent allergic reactions.
Limit alcohol intake.
Drinking too much alcohol can lead to dehydration, so it's important that people limit their consumption ahead of receiving their coronavirus vaccine. To ensure you're well-hydrated, drink plenty of water prior to your appointment.
Plan for time off from work.
Depending on your work schedule, you may need to request time off in order to go get vaccinated. It's also important to factor in any potential side effects that you may experience and if you'll require additional time off.
Dr. Toro explains, "Side effects are completely normal after getting vaccinated, particularly after the second dose of the Pfizer/Moderna vaccines. Symptoms such as fatigue, fever or soreness are common so planning a rest day after you get vaccinated might be smart." Employers may be required under state or local laws to provide paid sick or medical leave if an employee has an adverse reaction to the vaccine. Employees should consult with their employer to determine what options are available to them
You could get any vaccine.
At this point in time, it's likely that you will not know which vaccine you will be given. All of the vaccines currently available have been shown to be safe and effective, so be prepared that you may (or may not!) have a follow-up appointment.
Wear a short–sleeved shirt.
These vaccines are usually injected into your upper arm. If you can, wear clothing that will allow you to easily get to the injection site. Consider getting the injection into your non-dominant hand/arm, so that any soreness is limited the next day.
What to expect at your vaccine appointment
As you head to your first appointment, or second if you're receiving the Pfizer/BioNTech or Moderna vaccines, keep in mind the following tips:
Wear a mask and practice social distancing.
Mask mandates and social distancing measures will be in place at the vaccination site. Make sure your face mask covers your mouth and nose, and keep six feet apart when waiting in line.
Wait for observation.
Waiting for observation is an incredibly important part of the vaccine process. The CDC recommends that individuals be monitored for about 15 minutes after getting vaccinated. Individuals who have a history of severe allergic reactions to vaccines will be monitored for at least 30 minutes.
Ensure you receive a vaccination card.
All vaccinated individuals should receive a COVID-19 vaccination card. This card details what vaccine they received, as well as when and where they received it. You should keep your vaccination card on hand in case you need it for future use or if your vaccine requires a second dose.
Ask about v-safe.
Health experts are continuing to monitor the vaccines' safety even after people get vaccinated. V-safe, a smartphone app launched by the CDC, provides personalized health check-ins after you've received the vaccine and allows you to report any side effects or adverse reactions directly to the CDC. The tool can also send text messages to remind you to get your second vaccination (if applicable) within the recommended time frame.
What to know after you have been vaccinated
Like most vaccines, the Pfizer/BioNTech, Moderna and Johnson & Johnson shots may cause mild side effects. The most common COVID-19 vaccine side effects are pain, swelling and redness in the arm where the shot was administered. According to data from v-safe, more people reported experiencing side effects after receiving the second dose of the Pfizer/BioNTech and Moderna vaccines. "The first dose serves as a primer for your immune system. By the time you receive the second dose (if applicable), your body now recognizes the vaccine and has a more intense immune response, resulting in potentially greater side effects," says Dr. Toro.
For pain or discomfort, the CDC recommends asking your doctor about over-the-counter treatment options. Contact your doctor if you're concerned about your side effects or if they don't go away after a few days.
Additional information that you should consider includes:
Scheduling your second shot (if applicable).
If you received the Pfizer/BioNTech or Moderna vaccines, then you need to schedule a second vaccine appointment. The timing between your first and second shot depends on which vaccine you received. You can contact the vaccine center that administered your first dose to help set up a second appointment. Many vaccine centers help you set up your second appointment during your first shot appointment, so be sure to check how second shots are arranged.
Dr. Toro reminds everyone who is receiving the Pfizer/BioNTech or Moderna vaccines to not skip their second dose. "Ensure you get vaccinated as close to the recommended time interval as possible: 21 days for Pfizer/BioNTech, and 28 for Moderna," says Dr. Toro.
Knowing when you're protected.
Immunity doesn't happen instantly once you are vaccinated. In fact, it typically takes a few weeks for the body to build immunity. People are considered fully protected two weeks after their second dose of the Pfizer/BioNTech or Moderna vaccines, or two weeks after the Johnson & Johnson's single-dose vaccine.
Continue to follow CDC guidelines.
According to CDC guidance released in March, fully vaccinated individuals can safely visit with other vaccinated people and small groups of unvaccinated people in some circumstances. However, there are still important safety precautions to keep in mind. Because little is known about whether vaccinated people can spread the virus to others, health experts still recommend taking the proper precautions in public places, such as wearing a face mask and social distancing.
Keeping up-to-date on vaccine information.
Even with the vaccine rollout underway, there's still a lot of information that's constantly changing. For example, the threat of new variants has both Pfizer/BioNTech and Moderna conducting studies on the viability and effectiveness of a third vaccine dose. If you're vaccinated, remember to stay aware of new updates and developments from the CDC as well as your individual state.
If you have further questions about COVID-19 vaccines, or want to find out when you will become eligible, visit here.
Subscribe to The HaPi Guide