The LGBTQ+ community has long faced challenges to culturally competent health care and when COVID-19 hit, these health disparities were thrust into the spotlight. Over the last year, quarantine measures and COVID-related restrictions have made it increasingly difficult for members of this community, who often rely on each other for support, to stay connected and be there for one another.
Jackson Stewart, a senior visual designer and DE&I ambassador at Massachusetts-based PR firm Inkhouse*, has seen these impacts first-hand. In 2018, Jackson began transitioning and today he is a queer trans-masc gender fluid identifying activist for the LGBTQ+ community.
"Since I began my transition, the trans community, and the queer community at large, has been such a source of hope and kindness for me," said Stewart. "But from my experience, trans people tend to be fairly disparaged, and the effects of the pandemic have made this even more apparent. They face a lot more inequitable challenges, such as less social acceptance and limited access to health care and education, as well as civil rights issues."
The Impact of COVID-19 on LGBTQ+ Communities
Members of the LGBTQ+ community are at an increased risk of serious illness and chronic disease, less likely to have health coverage and are more likely to use tobacco. A report from the Centers for Disease Control and Prevention (CDC) found that gay, lesbian and bisexual people in the United States have higher rates of self-reported underlying conditions associated with severe COVID-19 outcomes, including asthma, cancer, heart disease, obesity, kidney disease and stroke, than heterosexual people. In addition, some members, especially in the trans community, fear stigma and experience lack of care, and may have been less inclined throughout the pandemic to seek care. And because of mistrust in the health care system combined with access challenges, many LGBTQ+ individuals are hesitant to get the COVID-19 vaccine.
"Trans folks are more susceptible to COVID-19 and other medical conditions and the pandemic, especially, has prevented them from comfortably and safely accessing medical care across the board because historically, the health care system has been inequitable and unsafe for our population," explained Stewart. "On top of that, the pandemic has had a major impact on LGBTQ+ mental health."
A Community in Crisis
People in the LGBT community reported experiencing job loss and worsening mental health due to the pandemic: almost 75% of LGBT people say worry and stress from the pandemic has had a negative impact on their mental health, compared to 49% of those who are not LGBT. These mental health issues are also prevalent among LGBTQ+ youth with more than 40% indicating that they were seriously considering attempting suicide in the past year, including more than half of transgender or nonbinary youth.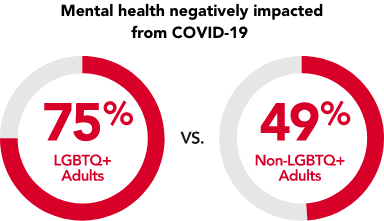 "Before the pandemic hit, folks were able to gather in person and build a sense of community — it's important to be able to be with people who know what it's like to be you. But for more than a year, it's been incredibly challenging for these people to feel connected. Being removed from social interactions can be detrimental to individuals' overall mental health and well-being," continued Stewart.
Additionally, the LGBTQ+ community has been massively impacted financially, both with business closures in community-specific venues (particularly in Boston) as well as being disproportionately impacted by job loss. LGBT adults (56%) reported that they or someone in their household has experienced COVID-era job loss, compared to non-LGBT adults (44%). These challenges add to the financial hurdles that these individuals already face such as wage gaps, discrimination in the workplace and higher housing costs.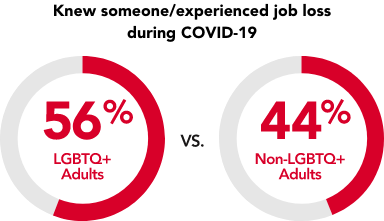 "There are many members of the LGBTQ+ community that don't have access to permanent housing and some are experiencing homelessness. Change needs to happen," explained Stewart.
How to Support the LGBTQ+ Community
While members of the LGBTQ+ community are often faced with greater social and emotional challenges, there are ways that people, regardless of gender identity or sexual orientation, and employers can provide support. Here are a few:
For Employers:

Ensure inclusive mental health access and support. With many LGBTQ+ community members suffering from mental health challenges, it can be overwhelming to know where to start when looking for mental health support. Harvard Pilgrim Health Care members have access to various mental health options. Talkspace, for example, can connect individuals with LGBTQ+ therapists and others who specialize in helping individuals work through questions of gender, sexuality and identity.
Please note, if you or someone you know is contemplating suicide, please contact the National Suicide Prevention Lifeline at 1-800-273-TALK.

Be flexible when people are getting vaccinated. LGBTQ+ people are more likely to get vaccinated, but face access issues, like being able to take time off from work, especially in economically strapped times. Programs that increase access to vaccines, like mobile vaccination clinics, can both stop the spread of COVID-19 within these communities and help people get back to work. To encourage individuals to get the vaccine, employers can look into offering paid time off for employee vaccination appointments and recovery from any vaccine-related side effects.
For Everyone:

Educate yourself. A great way to support the LGBTQ+ community is to take the time to understand them, their passions and the issues that they face. There are many resources, from books, news sources and LGBTQ+ groups, to movies and documentaries. Being informed about LGBTQ+ history, culture and current events will help you be a better, more supportive community member and ally.
In addition, utilizing social media platforms, like Instagram and Facebook, can help individuals become more educated while also allowing them to become a supporter and ally. However, it's important that users not use these sites as a way to express hate or engage in harassment. Stewart, for example, uses his Facebook to post relevant news and resources and host personal Q&A sessions, enabling members of the community to listen and join in on the conversation.
Stewart encourages those who identify as LGBTQ+ to seek out a community — in-person or online — where they feel safe and supported. "For people within these communities, be a listening ear — you don't always have to have all the answers in order to help someone that is in need. Just take care of each other."
*Inkhouse currently serves as Harvard Pilgrim's PR agency.
Subscribe to The HaPi Guide