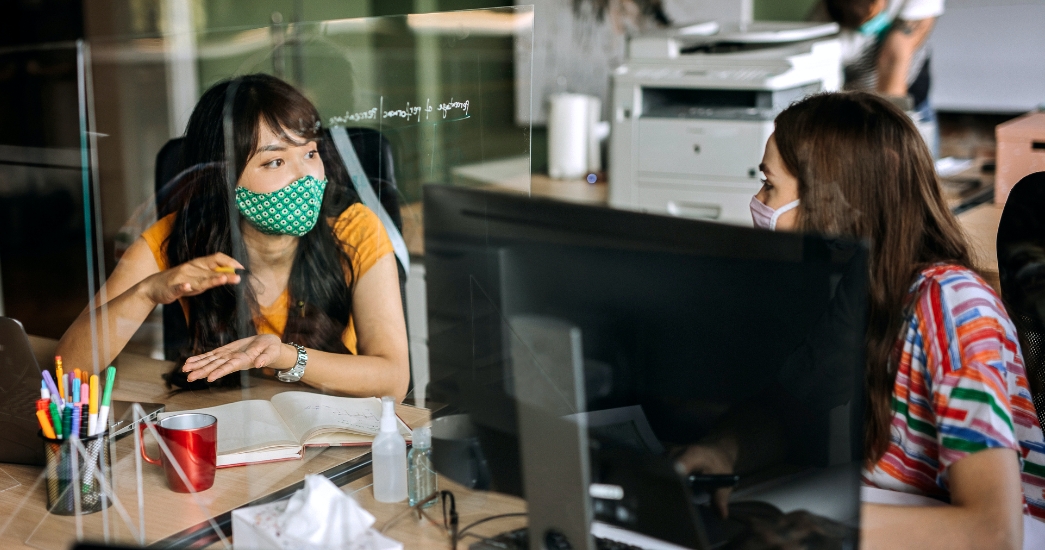 Since the pandemic began in 2020, there have been over 40 million cases of COVID-19 in the United States. While many who survive fully recover within a few weeks, reports show that others experience varying post-COVID-19 conditions for longer periods of time. Moreover, for those who suffer from long-term symptoms, the impact can be debilitating on their day-to-day well-being.
When it comes to COVID-19 and persistent symptoms there is still much that health experts are in the process of learning. Here's what we know about this public health concern, commonly referred to as long COVID-19, so far, as well as how you can support employees who may be struggling:
What are the long-term effects of COVID-19 and associated symptoms?
As a new health condition, long COVID-19 is a phenomenon that has yet to be standardized. In addition to being called long COVID-19, it's also referred to as long-haul COVID, post-acute COVID-19 and chronic COVID. All these terms refer to the idea that after the acute phase of a COVID-19 infection, a person may experience a range of new or ongoing symptoms that can last several weeks or months rather than returning to their baseline health. At this time, researchers suspect various factors at play for how and why long COVID-19 develops in some survivors; however, more studies are needed for deeper understanding and clarity.
Those who suffer from long-term symptoms are often referred to as "long haulers." Some of the most commonly reported symptoms long haulers experience are:
| | |
| --- | --- |
| Difficulty breathing or shortness of breath | Pins-and-needles feeling |
| Tiredness or fatigue | Diarrhea |
| Difficulty thinking/concentrating | Sleep problems |
| Cough | Fever |
| Chest or stomach pain | Lightheadedness |
| Headache | Rash |
| Heart palpitations | Mood changes |
| Joint or muscle pain | Change in smell or taste |
| Symptoms that get worse after physical or mental activities (post-exertional malaise) | Change in menstrual period cycles |
Are there other types of long-term damage that COVID-19 can cause?
Some people who have been severely ill with COVID-19 can develop multiorgan effects or autoimmune conditions over longer periods of time. Multiorgan symptoms can include issues with the heart, lung, kidney, skin or brain function, while autoimmune conditions can cause inflammation or tissue damage as the immune system attacks healthy cells in the body by mistake.
Who is at risk for developing long-term effects of COVID-19?
While older people and those with multiple medical conditions are most likely to experience lingering COVID-19 symptoms, even young, healthy people, including children, can experience prolonged symptoms for weeks to months after infection. Here are some of the latest statistics around high-risk groups:
Long COVID-19 is thought to occur in 5% of non-hospitalized people diagnosed with COVID-19.
It may occur in up to 80% of hospitalized coronavirus patients.
A new CDC analysis suggests that those most likely to develop long COVID-19 include women, people age 40 and older, Black individuals and people with pre-existing health conditions.
How can you support employees experiencing ongoing COVID-19 symptoms?
From creating a culture of understanding to offering health plan and government-backed support, there are several ways your organization can support long haulers within your workforce:
Create a culture of empathy.
As a new health issue, both long COVID-19 and those who suffer from it are often poorly understood. If an employee is struggling with associated symptoms, acknowledging that their symptoms are real and showing empathy can be a relief and help prevent stigmatizing this issue among your workforce.
Develop policies and procedures.
Creating a standard approach for addressing employee complaints of residual COVID-19 symptoms can help employers maintain compliance, formalize accommodations you're able to offer––such as modified or reduced work schedules and ergonomic solutions––and monitor and evaluate employee recovery and performance.
Educate on benefits and options for leave.
If symptoms are so severe that they last for weeks or months and employees are unable to work, be sure to review with them your short-term disability benefits (if offered), as well as their eligibility for leave and protection options under the Americans with Disabilities Act (ADA) and Family Medical Leave Act (FMLA).
Emphasize access to care and treatment options.
Treatment for long COVID-19 will vary depending on the symptoms a person might be experiencing. Help your employees along their journey to recovery by finding ways to help them utilize their health insurance coverage for treatment and monitoring, as well as calling attention to flexible benefit options such as telehealth. Harvard Pilgrim members can access certain health care providers virtually through Doctor on Demand while Teladoc is available to Tufts Health Plan members.
Highlight resources for emotional support and well-being.
Having COVID-19, and especially long COVID-19, can lead to depression, stress and anxiety with one study even reporting that an estimated 50% of survivors suffer from depression for many months. If an employee is struggling, help them understand their mental health options and how they can access professional help if they need it.  Harvard Pilgrim members also have access to digital behavioral health tools that help them connect with licensed mental health professionals through text, phone or video, and self-manage their emotional well-being.
Preventing COVID-19 and associated long-term damage.
The most effective way for your workforce to prevent COVID-19 and long COVID is to get vaccinated. Additionally, if your employees are returning to the office, making sure that you have workplace prevention strategies ready, such as proper ventilation, as well as cleaning and disinfecting policies can help prevent and reduce transmission. Encouraging COVID-19 precautions, such as mask-wearing, social distancing, frequent handwashing and avoiding others if they feel sick can also help your workforce stay healthy no matter where they are.
As we begin to understand more about long COVID-19, creating a sense of awareness within your organization and taking preventative measures against COVID-19 can help your workforce feel supported, understood and protected from long-term illness. For more information on COVID-19, visit our resource center.
Keep a pulse on the health trends that matter today.